This was the Devil's Den half of the trip, which included my first "recreational" recreational dive with my sister.
Diving in Williston's freshwater springs:
Directions from Tampa: Go north on I75 until exit 70. Go north on 27 until you get to Williston. At the light (clearly marked), ALT-27 goes straight while regular 27 takes a right. Take ALT-27. There's a sign on the right for Devil's Den (to the right); two miles down from that sign, there's a sign for Blue Grotto pointing to the left. Follow the signs to get to the site you're looking for.
Conditions on the day of my visit: Sunny; warmer as the day went on.


Personal Notes: Again, the water is cold; I'd suggest a full wetsuit. The bigger fish seem to be more numerous at Devil's Den than Blue Grotto. I actually managed to touch a catfish! Silt wasn't as much of a problem at Devil's Den when compared to Blue Grotto, but visibility was still limited (there does seem to be a *little* silt, but I didn't see anywhere where it could have been originally...the floor was almost completely rocky). Devil's Den is more of an underground cavern, looking to be about half full of water, with a hole in the roof allowing a little natural light in, and you enter through a stairway on one side...so the entrance to Devil's Den is super cool looking. I've seen it on the internet or heard it said that the deepest part of Devil's Den is 45 feet...I never went below 25 feet, as the deeper parts seemed to me to be more suited for those who like to cave dive. True cave divers might like it, except that some of the more adventursome divers will find some of the holes grated off (supposedly, never got that far in myself to see this). Bring a light! Watch your buddy here, too...with the limited visibility it can become difficult to see your buddy. I'm not claustrophobic but Devil's Den just seems smaller than Blue Grotto.
Pictures!
My (ex) brother-in-law took the one picture I have from that weekend.
Devil's Den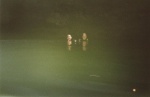 Floating Heads: My Sister and I resting at the surface of Devil's Den. Though it's hard to see, that's me on the left and my sister on the right. Remember, Devil's Den is much like a cavern with a hole at the top where light comes in; we are just below that hole.



Dive data for dives on this day:


| Dive | Site Name | Max Depth | Minutes | Water Temp |
| --- | --- | --- | --- | --- |
| 4 | Devil's Den | 20 feet | 20 min. | 72 F |
| 5 | Devil's Den | 25 feet | 25 min. | 72 F |
| 6 | Devil's Den | 24 feet | 8 min. | 72 F |
| 7 | Devil's Den | 21 feet | 5 min. | 72 F |