Day two of the Weeki Weekend. This day it was just my sister and I.
Diving in the land of the Mermaids:
Directions from Tampa: Weeki Wachee is just south of the intersection of State Road 19 and State Road 50. Weeki Wachee is technically it's own city, but I've seen it referred to as part of Brooksville, as well as part of Spring Hill.
Conditions on the day of my visit: Sunny, but very cold in the morning. It was hard to put wetsuits on after taking them off between dives.


Personal Notes: Before the second dive of the day, my sister and I snorkeled over to where six or seven manatees had been spotted. We saw that most of them were sleeping; one however came over and came quite close to us (for a while, she was practically nose to nose with me). She let us rub her (she even rolled over onto her back to let us rub her belly, which she seemed to like). It was an experience I will cherish, and so far, my most favorite in diving.

I bought a t-shirt that says "I dove with the Mermaids at Weeki Wachee." Both days of our dives there were trainees in the water when we were so the t-shirt is actually accurate. ;)
Pictures!
Mind you I have to take the photographer's word for when it comes to the order of the pictures.
Weeki Wachee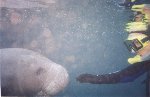 A quiet conversation ensued. "Trust me ... I'm an okay guy."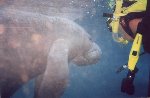 She says, "You look like a nice enough fellow."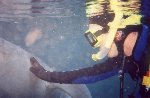 "How does that feel?"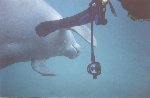 "Oo! Oo! Right there! Right there!"



Dive data for dives on this day:


| Dive | Site Name | Max Depth | Minutes | Water Temp |
| --- | --- | --- | --- | --- |
| 34 | Weeki Wachee | 53 feet | 39 min. | 73 F |
| 35 | Weeki Wachee | 54 feet | 40 min. | 73 F |