I frequently read, and often post, to The Rodale's message board, Diver-to-Diver; I find it a valuable resource for divers. A group of us got together and commandeered half of one of the boats that Jim Abernathy's Scuba Adventures runs.
Diving off of West Palm Beach:
Directions from Tampa: To get to WPB, I usually take I-75 to HW60, and then go south on I-95.
Conditions on the day of my visit: Partly cloudy, some rain ... cool with the overcast.


Personal Notes: I get the impression that diving in south Florida is full of good deals. It was definitely a cheaper dive than going into the Gulf ... and a better dive at that.

I had never done a drift dive, and that alone had me a little nervous. I knew the concept: you (as a group of divers) are assigned a dive master and given a float ball and line and dropped into the water. You let the current push you along a reef, and after the assigned time passes, you surface, and the boat picks you up. Seeing as how I've always dove in situations where the entry/descent and exit/ascent points really haven't changed, I think that nervousness was understandable. What definitely made things easier was that I had pretty much nine buddies. As long as I was within a decent distance of another diver, I had no problem just going with the flow.

It was an incredible couple of dives. My only real complaint was that the boat that we used, Infatuation, didn't have the best of exit (or entry, IMHO) methods ... you basically had to do "whale-up" to the platform.

One of the three John's in our group brought "Diver-to-Diver" hats for everyone ... a welcome addition to my collection!

The only other problem I encountered on the dive was that I had just gotten my dive computer back from Oceanic; they claimed that my loss of pressure data with my wireless computer was due to using the wrong batteries. Well, every so often the alarm would go off for a few seconds, warning of a loss of transmission. And I know I was using the right batteries, and I know they were brand new batteries. I can have a quiet, comfortable dive if I turn the alarms off; however, I loose any audible warning regarding low tank pressure, depth violations, deco violations, or ascent rate violations. This is not acceptable, so the computer will be (hopefully) traded in for a hose-based air integrated computer.
Pictures!
I took two rolls, one per dive, but my paranoia regarding particulates in the water had me with my finger over the flash for almost every picture. Considering it was overcast, there wasn't always enough ambient light to make a shot really good. And I got burnt out on photography for a while there and it took me a while to get these scanned in. The first twelve are from "Teardrop," the other eight are from "Flower Gardens."
Teardrop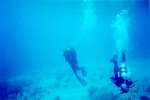 "Trading Shots With Spritely." Go figure that my sister and I would spend our first picture goofing off.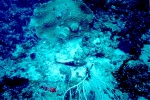 My sister suggested this was probably a "cleaning station," though you really can't see the "cleaning station" itself, only the grouper that's at it. If it is, there's a small fish swimming in and around the grouper's gills, cleaning off dead skin and stuff.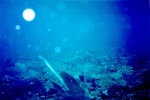 In spite of the backscatter, this is a really good shot of a trumpet fish (or something in that family).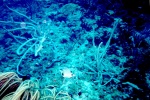 Afraid that he would swim away, I snapped several pictures of this Smooth Trunkfish.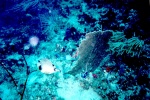 This one came out really well; the patterns on the side sharp enough for a positive identification.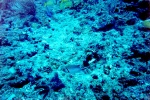 The key to identifying this Blackbar Soldierfish is the black line near his gills.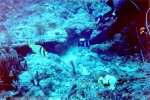 The Porkfish and I stop to watch the dive master try to tempt the Green Moray Eel out from his hiding spot. His head (the eel's) is just visible near the dive master's gloved hand.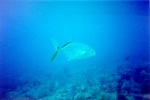 Crevalle Jacks can sometimes be difficult to ID unless you have a good shot of the right spot on his body ...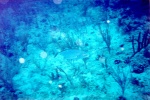 And that would be the black spot under his fin!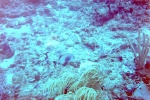 I wish I had gotten a closer, flash photo of this Black Margate ... but this one is good enough for a positive ID.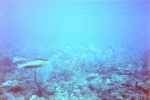 My best guess is that this is some kind of Parrotfish, or possibly a Wrasse ... definitely in that family though.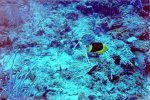 My sister has a funny story about Rock Beauties that involves several repetitions of "A black and yellow fish with purple lips."
Flower Gardens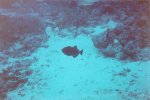 My first clear picture on our visit to the Flower Gardens was of what I identified (with the aid of Paul Hunan's Reef Fish Identification book) as a Black Durgon.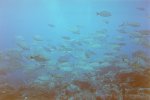 A large school of fish I was too lazy to dig through the book to ID ... probably some kind of snapper though.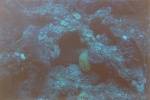 For me, the most rewarding, wonderful, amazing, beautiful part of the entire trip was the sight of this old soul, a Green Moray Eel. No picture I have can truly demonstrate the great size of this seemingly gentle monster, nor impart the texture of his leathery skin. His white eyes making him seem blind, but yet here he was, still living, breathing, (and in this photo) to an extent acting silly, his face seemingly wise and knowledgeable. An encounter I will rate highly in my dive career, and a memory I will treasure.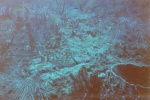 Not a 100% positive ID, this is (I think) a Stoplight Parrotfish.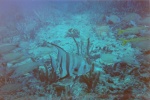 This is almost certainly a Spadefish.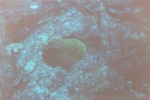 Here's that old soul looking straight at me. I wasn't nervous, but then I wasn't going to get any closer.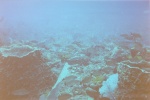 You can spot in the middle of the picture, some distance away, is what I think is a quite honking large Yellowfin Grouper. Considering his size, and that grouper don't get that large without being somewhat aware of what's going around them, I wasn't about to get any closer without him swimming away.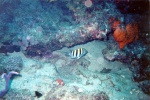 A Sargeant Major fish (ID'd from the five black stripes).



Dive data for dives on this day:


| Dive | Site Name | Max Depth | Minutes | Water Temp |
| --- | --- | --- | --- | --- |
| 72 | Teardrop | 55 feet | 49 min. | 84 F |
| 73 | Flower Gardens | 55 feet | 41 min. | 84 F |