Secret Ledges

2.9 MB There were a lot of Butterflyfish at the beginning of the dive.

3.8 MB Here is a video of a really strangely colored Damselfish.

4.9 MB Here's a bit of footage of a Trunkfish.

5.2 MB This is the first Ray I've ever gotten footage of ... it's a Yellow Stingray.

3.2 MB I don't yet have a good still of a Hogfish but here's some decent footage of one.

5.6 MB This video has sound! If you listen carefully, you can hear the sound of this little Damselfish attacking my camera housing.
Secret Ledges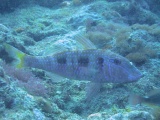 Goatfish in the inactive phase. Easy to shoot because it can take some effort to get them to move when they're in this state.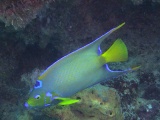 Queen Angels used to be a surprise for me but these days all I see are large ones like this one.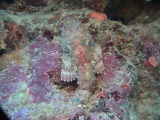 I managed to get close enough to use the lights and take the red filter off and get this Scorpion Fish in his very natural colors.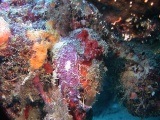 This mollusk (?) was a little open until I got too close.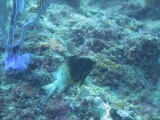 My sister and I have never seen a Damselfish with quite this type of coloring.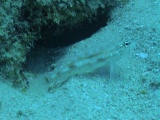 These little guys (probably a kind of Blenny) usually sit out in front of their holes, but are very skittish. I managed to get a good shot (if a little blurry) of this one, who ran to hide when I went to turn the lights on for a second shot.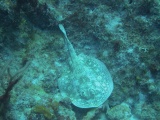 This is the first picture of a Stingray I have managed to get with this camera. I was very excited to see this little Yellow Stingray sitting in the sand. I also managed to get footage of him moving on.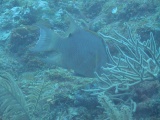 I got footage of this Hogfish but I didn't have a still of one yet. Still kind of don't have a still of one as this guy hid his face before I snapped the photo.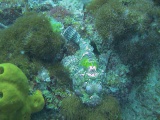 Here's a Scorpion Fish out in the open; I had to correct some of the colors on this one.