We had planned this trip to "Punta Sur," which has a swim through that's called "Devil's Throat," the exit of which is down between 120 and 130 feet. Deepest dive for me yet!
Diving in the Caribbean Sea:
Directions from Tampa: This is one of those trip things. Getting there from Tampa usually involves a plane ... though it could be a boat ... but you won't be driving there. Cozumel is "in" the state of Quintana Roo, Mexico.
Conditions on the day of my visit: Sunny


Personal Notes: "Devil's Throat" has that shape that gives you the impression of going over the tongue and then down the gullet of something. It's a narrow passage, too; don't be surprised if you bump something while doing it.

This visit to "Yucab" was late in the day; a "twilight" dive. We got out of the water just a little before it got dark. The currents during out visit were very unpredictable. When we got in the water, they usually headed in one direction, but before the dive it was hard to tell if that direction was going to be north or south. As such, we started off this dive not knowing if we were going to do "Yucab" or "Tormentos."

Yucab also seemed to have a large number of Splendid Toadfish this time, too. It got to the point that I stopped even considering to take a picture if I couldn't see more than just a spiky chin or head.
Videos!
My Codecs Page so you can get what you need to see these.

No video from the first dive - I took some, but upon review it all turned out to be quite boring. At the beginning of the third dive, I got video of a Spendid Toadfish, but I'm hoping to find better than what I had - so I haven't created an MPG for it.
Las Palmas

5.2 MB A couple of French Angelfish swimming in formation - and then a cut to one that was fairly close to me.

4.3 MB This video is a bit big for it's length, but that's because there's a lot of detail in it. Here is a Tobacco Fish; midway through, he seemingly scares another one off.

7.8 MB I'm trying to be a bit more selective about what videos I put up - that way, the good ones get up there a little quicker. This one is of a Smooth Trunkfish - it's hard to estimate his size until you see a fish pass in front of him ... and then behind him too! He was kinda small (though not quite Juvenile).
Yucab

4.6 MB A decent video of an Arrow Crab eating. He's pretty big for an Arrow Crab, too.

2.1 MB I'd swear this was a Daddy, Mommy, and Baby Lobster. Looks like a little family.

3.1 MB If the one above is a family, this is a Lobster Block Party. I always seem to see another one every time I watch this.

3.8 MB I don't yet have an Octopus freeswimming on film, but I do have a couple of eyes ... and in this case, I have one clearly breathing in his hole.

5.9 MB I really like Eels. Spotted Morays like this one are kinda cute ... they're in that mid size range between the big Greens and the smaller species.

7.0 MB The smaller they are, the cuter ... though no less dangerous. This Golden Spotted Moray is hanging out with some cool looking corals.
Pictures!
No pictures from the first dive (which was more suited for video anyway). A few on the second dive, and a few more from the twilight dive ... most of which should be natural coloring since I had my lights with me, and rarely needed to use the filter.
Las Palmas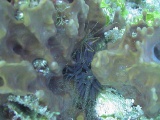 An Arrow Crab near a Corkscrew Anemonie.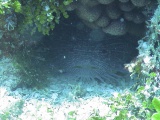 Always hoping to get a little more detail in the photo, I took a lot of pictures of Splendid Toadfish. Alas, I usually only got the head.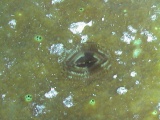 The feather dusters (like this Split Crown Featherduster) seemed to be a bit more timid than the ones in Curacao.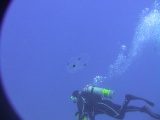 Here's an attempt to get a shot of one of the many jellies I saw. Unfortunately, with their small size, and small detail, and near transparent bodies, the camera had a hard time locking on to them.
This one should be a little easier to spot than the first photo of the last one from a couple of dives ago ... this is a Sea Horse. Unfortunately, when one group of divers sees another group of divers congregating around a spot, chaos suddenly breaks out.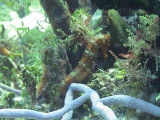 I went to snap one last photo of this guy when all of a sudden my group was leaving, and a whole nother group showed up. I was maybe an inch off the sand lining this shot up when I saw through the top of my mask another diver less than a foot above me. Etiquette went right out the window. I snapped my shot and moved on.
Yucab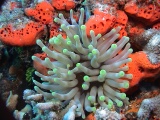 This Giant Anemonie presents a cool subject, particularly when framed by the bright orange coral behind it.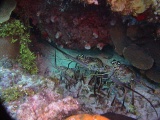 I'd swear this looks like a baby, mommy, and daddy lobster family.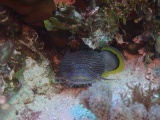 We actually get to see a fin on this Splendid Toadfish.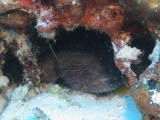 Peekaboo! Another hiding Splendid Toadfish.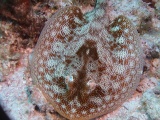 My best guess is that this is a Yellow Stingray.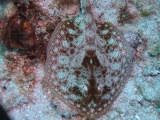 I wasn't 100% happy with the first shot so I took another. No major difference though ... so I gave up.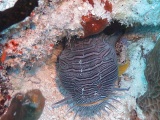 A little more of a Splendid Toadfish, hinting at the large flat bodies that these guys have.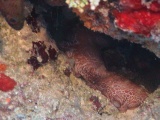 Well, no eye in this one but you can easily make out some suckers on the tentacle.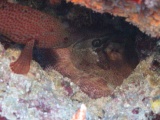 The eye of the Octopus is a little up and to the right from center. I'm guessing (from the spots on his back) that that's a Graysby peeking in on him from the upper left.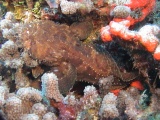 This is a Large Eye Toadfish; we had seen one on the night dive but couldn't get a good look at it to ID it (and, of course, I didn't have a camera on that dive). His eyes don't appear that big, but he does have the branched barbs and lines of spines down his sides.



Dive data for dives on this day:


| Dive | Site Name | Max Depth | Minutes | Water Temp |
| --- | --- | --- | --- | --- |
| 160 | Punta Sur | 124 feet | 35 min. | 84 F |
| 161 | Las Palmas | 76 feet | 57 min. | 84 F |
| 162 | Yucab | 55 feet | 58 min. | 82 F |