Columbia Pillars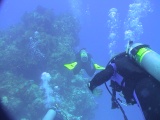 The coral formations of Columbia Pillars are very interesting. Here's my sister (guessing from the first stage), Angie (dead center, judging by the fins), and Chuck swimming towards one.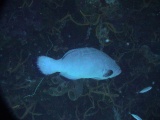 Here's a Black Grouper underneath a ledge. If he hadn't changed colors, I wouldn't have been able to get such a good shot.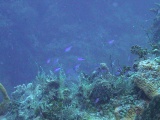 Here's a school of what I'm guessing are Blue Chromis.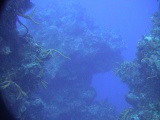 A shot of three pillars, to give you a vague idea of what it looks like.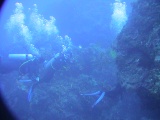 John, Bernadette, and Chuck (well, his fins anyway -- I think), among the pillars.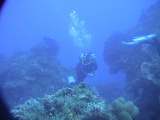 My sister coming up over the top of a pillar, with a couple in the background.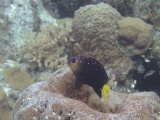 After seeing a part of the entry in my ID book for this Yellowtail Damselfish that I had missed previously, now I know why I like to get photos of them: they are sometimes called "Jewelfish".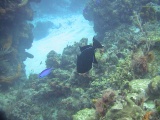 Another Black Durgon; note the pale lines at the base of the fins.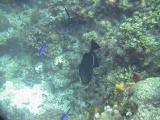 Hard to get a good shot of him, as he wasn't in the mood to pose, apparently.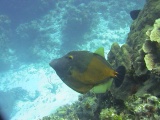 Unlike this (Orange Phase) Whitespotted Filefish, who didn't mind being photographed.
Balones de Chankanaab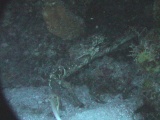 Another one of those mouthwatering crab.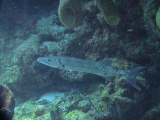 You don't usually see Baracuda lurking under ledges, but that's where I found this one. They don't usually get this close either.
Villa Blanca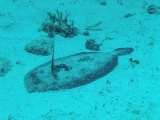 Flounder, like this Peacock Flounder, were not uncommon, I'd say ... we just didn't see a lot of them, and some of the ones I did see weren't easy to shoot (currents moving the way they were on some of the dives).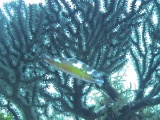 The markings on this Tobaccofish will, at first, make you think that the lighting is hitting him through the fan-like coral he's hanging out near. But no, those are his natural colors.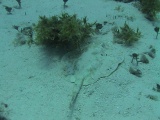 I'm thinking some might debate my ID of this Yellow Stingray. But hey, I'm no expert. Just a half-way decent photographer (well, not even that ... I just have good equipment ;).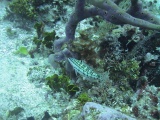 Harlequin Bass weren't uncommon either ... I just didn't care to take pictures of most of them. I decided to snap this one just to say that they were there.