This was a second visit to "Shark Junction," this time with UNEXSO for a shark feeding.
Diving off of Grand Bahama:
Directions from Tampa: It's only about 55 miles off of the coast of Florida. You can go by boat or by plane ... talk to a travel agent.
Conditions on the day of my visit: Sunny and warm.


Personal Notes: Though operating in a tourist haven, UNEXSO is strictly a business operation. This wording may sound strange, but we showed up just before the boat left the dock the day before, and instead of waiting for us, it left. They do not follow the "Island Time" concept. This is not bad or good, but they tend to be an extreme when it comes to dive operators: they are always on time, they aren't always as personable as other dive crews I've been with, and they stick to their schedule. A good choice for shark feedings (as Grand Bahama Scuba doesn't do them) and night dives (Grand Bahama Scuba does one site and only if the weather is perfect), I personally preferred Grand Bahama Scuba's personal interaction over the more timely service of UNEXSO.

The sharks (save for a single nurse shark) were mostly female reef sharks (only one male reef shark showed up). It was amazing to watch Ian, the feeder, cradle and handle them, just before he would slide a fish in front of them and they inhale and crunch it up. There were also some large grouper and many Yellowtail Snapper trying to get bites of fish. We also saw a ray in the distance, but it did not really come that close to the feeding. All in all there were more than 10 sharks, some of which would get quite close to us while they circled Ian.

Ian explained that the dives average about 40 minutes; we were down for about that. Ian, wearing chain mail, walked off when the feeding was over. The sharks followed him as we swam to the ascent line and got back on the boat.
Pictures!
There are other pictures of sharks available on the page about my first visit to "Shark Junction."
Shark Junction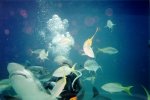 Crunch! Let Ian play with you for a while and he gives you a fish. The sharks might consider this a good deal I guess.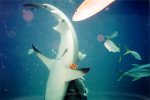 And he could do some pretty amazing things with these sharks.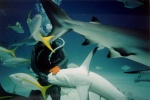 Sometimes it's amazing when you realize Ian still has all of his fingers.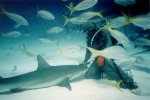 He was both feeder and handler, and he seemed to know exactly what he could do and couldn't do.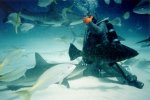 The Black Grouper again, before paling to white, in front of Ian with a reef shark.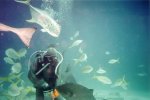 One of my better shots of what I believe is a Crevalle Jack, at the top left of the picture. There's one of the Black Grouper, center bottom, before it paled. Ian is reaching into his fish tube for a fish, getting ready to feed a shark.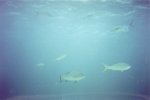 Believe it or not, that white fish just below the center of the frame is a Black Grouper. The silvery fish in the upper right I can only guess is an Crevalle Jack (it was hard to find a fish that looked just like it in the ID book, and then it was hard to choose between the two or three that it did look like). And, of course, some Yellowtail Snapper. The one in the lower right came out really well. No surprise considering how many of the buggers there were.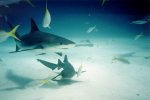 A better shot of the nurse shark, along with a reef shark above it.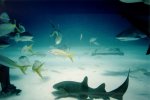 A shot of the nurse shark. After a few minutes it was nice to see something other than a reef shark and snapper.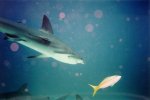 A decent shot of a reef shark's profile, with at least one shark sucker attached to her, and a Yellowtail Snapper.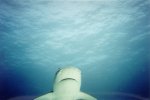 A view of a shark that few people enjoy. I loved it though.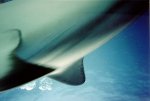 The sole purpose of this picture is to show you how close the sharks got. This is a reef shark, not that it really matters when they're this close.



Dive data for dives on this day:


| Dive | Site Name | Max Depth | Minutes | Water Temp |
| --- | --- | --- | --- | --- |
| 48 | Shark Junction | 43 feet | 38 min. | 76 F |