Arranged/organized by my sister, this was a trip to the island of Grand Bahama, the area known as Port Lucaya (just outside of Freeport, where the airport is). Watch flight costs; it was cheaper for me to drive to West Palm Beach and put my car in long term storage than to fly out of Tampa International Airport. I got to fly with my sister (on a plane even I couldn't stand straight up on, and was barely wide enough for a seat, and aisle, and another seat), and didn't have to make any connecting flights. The divers were of course me, my sister, and her husband; my parents (alas, non-divers) showed up a day after we did and left the day before we did.

We did a total of eight dives over six days, indexed below. This page contains mostly a review of the trip overall, particularly the non-dive stuff.

As a tourist in the Bahamas, be prepared to have people constantly try to sell everything to you ... including taxi drivers. The natives were always friendly but they all want your business, too. Tourism is a government industry in the Bahamas. I was personally attempting to be nice to a gentleman who looked like he needed to borrow a pen, and next thing you know, I've got someone trying to provide me with transportation. He was disappointed when I told him we had rented a vehicle, but even after that it was "When are you leaving? Do you need a ride to the airport?" I tend to shy away from anyone who tries to sell me anything I didn't originally express interest in or ask about, so this tendency of the vendors did have it's negative effect on me. But hey, when you're a tourist, this is what you have to deal with.

Be wary of "Island Time." "Nine-ish" could be close to 9:45. The only bad thing about the service is that it goes at it's own pace. However, you're trying to relax, and maybe it's a good thing that everyone else takes their time ... it kind of forces you to take yours, too.

As for night-life, I'm sure there was a lot going on at the Port Lucaya Marketplace, but I was usually tired in the evenings and had a couple of good books with me that I had been putting off reading for pretty much the school-year (I'm working on my MIS Masters degree). I think I also tend to be stimulus sensitive; large loud crowds tend to put me into a kind of sensory overload where it becomes my main goal to find someplace quiet.

As an American traveler to the Bahamas, you'll want to bring along your driver's license and birth certificate, if you don't have a passport. Without them it's likely you won't be allowed back into the U.S.! Actually, you might not be allowed to leave, either. At the risk of violating a major vacationing no-no, consider taking a bit of cash with you, as well as your credit cards. If you run low on cash, about the only place that has an ATM that pays in U.S. dollars is the casino in Freeport, and your choices are $50's and $100's.

If you rent a vehicle, it's going to play with you for a while. A former British territory, you drive on the left side of the road. However, all the cars are American and left hand driven. The taxi drivers are friendly enough, and depending on where you're diving, where you're staying, and how many days you're staying, it may be easier just to use the taxis.

Diving In The Bahamas ... My Opinions And Experiences:

The only place I've seen the "Island Time" concept fail is with UNEXSO, one of the two diving establishments we used while there (for the shark feeding). If they say "Be here at 2:00pm, boat leaves no later than 2:30pm," then you will miss the boat if you are not physically on board at 2:31pm. Grand Bahama Scuba (which is based out of the Ocean Reef Yacht Club and Resort), on the other hand, was completely different. As I wrote the first draft of this page (on paper, May 3rd), we'd shown up at Grand Bahama Scuba's boat by 9am. My dive computer, however, reported dives starting no earlier than 10:40am ... and boat rides were usually less than 20 minutes long. Our tentative plan for next day (our last day of diving) was to be there at 9:30am. Boat rides to sites can be anywhere from 5 - 30 minutes, usually closer to 5.

If you're super anal-retentive, dive with UNEXSO. If you are willing to take your time, want great personal service, fun people to dive with, chat with, and generally hang out on the boat with, go with Grand Bahama Scuba. Grand Bahama Scuba also has places for you to store your gear with them, so you don't have to lug it back and forth to the hotel.

Dive conditions for our dives varied; depths were anywhere from 15 to 110 feet, water temps started the first day at 73 degrees F and rose to 78 degrees F by the time we left, and visibility was always a good 100 feet (at least initially).

Our plans involved an average of two dives a day, a day off, and at least 24 hours of no dive time before our flight back to West Palm Beach. What it turned into, at the time of the first draft of this page, was about a dive a day, and Thursday's tentative plan was (we flew out 11:55am on Friday):
100 foot dive on Theo's Wreck before 11am
Probably a 40-60 foot dive after 11am
If the wind calms down, a 15 foot night dive (after 7pm)
I didn't really have a problem with the deep dive or the night dive. What did concern me was the second dive. It's moderately deep (meaning there could be some nitrogen buildup) and it would have followed a really deep dive (though there would have been a significant SIT). The night dive would have been really shallow and would probably have been 45 minutes long ... but we had done a day dive for over an hour our first day.

As it happened, we didn't do the night dive (couldn't, since it was quite windy for most of our trip and the water was quite rough) and we did our second dive (with a SIT of almost an hour), and everything turned out okay in the end. Our diving was more spaced out than it would have been (so no day off wasn't really called for), I had a good time, and I caught up on some reading. Though my sister wanted to stay longer, I personally was ready to come home. A week away from my email, and my computer, had me a little out of my element. And I'll even admit that diving every day can take it's toll (my hands are still peeling ... bring hand lotion and use it religiously after your dives ... Tom, I thought you were silly for nearly obsessing over that bottle of lotion ... boy do I feel silly).

Where We Stayed

The Port Lucaya Resort and Yatch Club was our locale of choice. This is a really good place to stay if you're diving with UNEXSO which is (barely, if you're carting SCUBA gear around) within walking distance of the resort. It's your typical hotel I guess; two story buildings arranged around the pool and general "recreation area" (for lack of a better term). On the outside of the buildings are mostly docks for the yachts.

My complaints, though:
No remote for my TV. Though I complained, I never got one. Of course, I'm not there to watch TV, but hey, there's one there, I'd like to be able to change the channels (ya know, like if I'm watching TV before going to sleep, and yeah, I'm really bad about channel surfing) without standing on my toes (slight exaggeration, but the TV was mounted up in the corner of the room).
The windows to my room would not close and refused to stay closed. This again was never fixed during my visit. Not a real biggie, but still a minor annoyance.
My air conditioner leaked, enough to where I didn't want to stand in front of it barefoot, and when I noticed it, it annoyed me greatly for some strange reason.
Not my complaint ... but my sister commented that they put the clocks in the room as far away from the end tables next to the bed as they possibly could. The aforementioned anal-retentive types that need alarms that don't bring their own (which I can't see this happening) might find this annoying.
On the good side, the resort is right next to the Port Lucaya Marketplace, and there's a 24-hour Dunkin Donuts close to the hotel side of the marketplace (late one night they came to the rescue for me with a decent roast beef sandwich, and breakfast quickly became a donut and a small soda). Avoid the canned orange juice, try the Goombay, and if it's not to your liking, stick with a Coke with no ice. The Dunkin Donuts shop is also one of the few restaurant type places with fountain colas. Most places have canned soda.


On To The Dives
Pictures!
Be it to show you what it looked like, or to finish off those last few pictures on a roll of film so I had a fresh roll for the next dive, here's some pictures from around the Port Lucaya Resort and Yacht Club.

A view from my sister's hotel balcony. God I wish I had one of these. I spotted a couple with satellite dishes on the front. Geeze, all that and 200 channels too!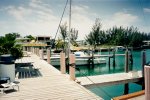 A catamaran boat docked near my room.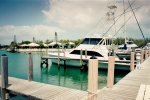 A nice fishing boat docked near my room.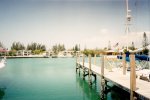 Near the building my room was in, standing on the dock, looking across the water.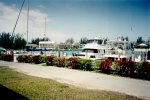 Right outside my door. Little did I know how much trouble getting this picture would cost me. As I snapped the photo, a gust of wind caused my door to close ... with my hotel key still inside. I had to walk up to the office and get another one temporarily.