Silver Point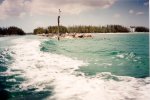 A view from the back of the boat as we left the inlet. Not really that impressive until you see the next picture.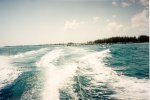 The engine probably didn't shut down more than 20 seconds after I took this shot. No lie. We're practically on the site by this point.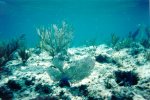 Some (slightly blurry, sorry) blue fan coral. I don't know if it comes out in the picture that well ... but it was a very brilliant dark blue.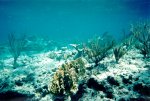 One of the better formations of fire coral I've seen. I needed to get a picture of this one because this is what you usually expect fire coral to look like (especially when compared to the next picture). Fire coral not only looks like fire, but if you touch it, you get (chemically, of course) burned bad (well, not burned I guess, since it's more like poison, but it supposedly feels like it).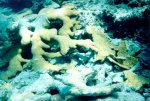 Even fire coral gets so big it can't stand up ... so it grows like this, I guess. Amazing; it's only identifiable by it's color and general shape. Even if you know what fire coral normally looks like, you might not think this is it ... but I'm fairly sure it is.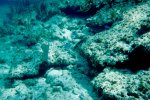 Some pretty little blue fish. Best guess using my fish identification book is that they are Blue Chromis.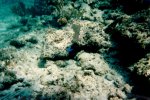 More (probably) Blue Chromis.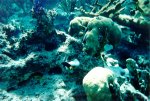 I'm guessing this is a Yellow Tail Damselfish. If memory serves, and vision doesn't lie, you can kind of see some purples spots on him.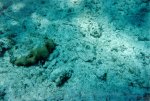 Another (probably) Yellow Tail Damselfish, right near the coral formation. If memory serves, I'm probably right underneath the dive boat.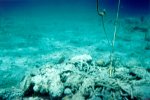 Another (probably) Yellow Tail Damselfish, right near the coral formation. If memory serves, I'm probably right underneath the dive boat.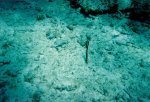 Three fish. Best guess, they are Ocean Surgeon Fish.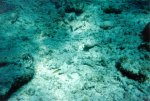 Small fish with a black top and a yellow body. I'm guessing it's a Yellowhead Wrasse.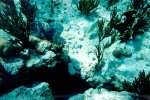 I was probably trying to get a shot of the fish in the hole, but as shallow as it was and as sunny as it was, the flash only went off if I was under the boat. However, there is a fish peeking out from the soft coral on the right. It's likely a Lane Snapper.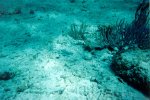 This is kind of what parrotfish typically look like. The coloring has me guessing that this is a Striped Parrotfish.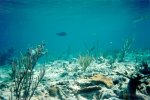 It may not look like a good shot, but considering that this was the only one I saw, and he was retreating quickly, it's amazing that this Blue Parrotfish came out as well as it did.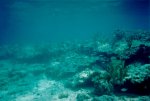 A school of fish. Many times the schools were not just of one species; the fish often intermingled.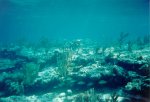 A couple of schools of fish; the most noticeable being the ones under the ledge of coral.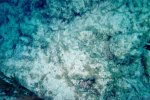 Some tiny yellow fish ... again, considering the size of the fish, it's amazing they came out this well. If you don't spot them at first, look on the right half of the picture. I can't even hazard a guess as to what type of fish they are.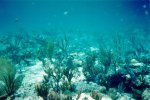 Ignore the fish you spot right off the bat and look for the trumpet fish hiding in the trees of soft coral.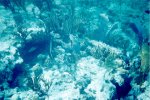 SisPic: My sister got a better picture of the trumpet fish, along with a clearer view of all the other fish nearby.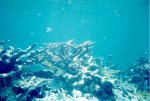 SisPic: Here's a good shot of a Parrotfish, fire coral, and some other fish. The striped fish are Sergeant Majors.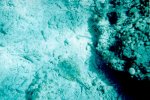 SisPic: Fred indicated that this ray was pregnant. It's a Yellow Ray.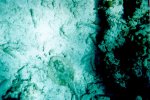 SisPic: Another picture of the soon-to-be-a-mommy ray.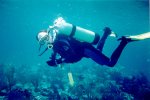 SisPic: Amazingly, my sister also managed to snap a photo of this rare Bald Eagle Ray, identified by its mostly hairless head, blue and black body, and yellow markings, particularly on its fins. The Bald Eagle Ray sometimes finds it necessary to illuminate objects with its unusual light-giving appendage.