Weeki Wachee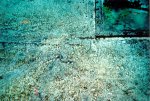 Here are some minnow type fish ... about 45 feet down, near the first pull through, there's this box that, as far as I can tell, is probably an old air bell from ages past. This photo is of the top of that box.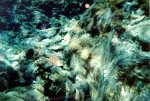 Boo! A startled bream with his spines out.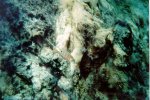 Once he realized he wasn't going to intimidate me, he swam away.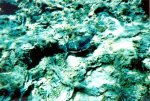 A turtle apparently hunting for food.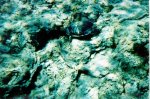 Always keeping one eye out for a predator (or a mermaid with a banana).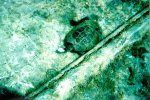 Speaking of bananas, here's a turtle munching on what's left of one. The mermaids often eat or use them in their show, or sometimes feed them to the turtles.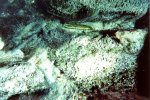 A baby bass that thought he was hiding from me. This is probably the best shot of a baby bass that I took, since they tended to be incredibly more skittish than the bream.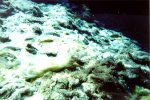 An example of how skittish they were. This one is definitely keeping his distance.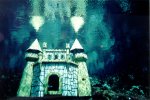 After looking at this picture, I have another goal for my next visit: to get a full shot of the reflection, with the real castle off of the top of the frame ...

Here starts the second roll of film, third dive of the day. I've swept some of the sand away to uncover the freshwater flounder that was hiding underneath. I was very lucky to find him ... originally he was just a pair of eyes and the line of his gill that was hard to see if he wasn't breathing. Look to the left of center.

Eventually I coaxed him from his hiding space, and he found a small ledge on a rock wall to settle on. This photo is with flash on.

Here's a closer photo of him, no flash though.

This bream swam by and spotted the flounder when he moved.

The bream would try to figure out a way to attack the flounder every time it moved (but it never could come up with a good way). When the flounder settled though, all the bream could think of doing was watch.

A no-flash shot of the bream right over the flounder.

Not that it's really a whole lot different because of the 'non-effect' of the flash, but here's pretty much the same shot of the two of them with a flash.

When I saw the next series of photos, a weird scenario played through my mind: "This is carrier-based fighter Turtle One, hooking up to the catapult ... " (notice the orange hookah hoses in the background)

"Launch Turtle One!"

"Fighter Turtle One is clear of the deck!" (and part of a hookah hose)

So it's not "Dream of the Blue Turtles," it's "Dream of the Turtles in the Blue."

The only reason this got scanned is because it's a fairly clear shot of a bream.

A good shot of the baby bass and some bream.