Daaibooi Bay

3.2 MB Here's a little Sharp Nosed Pufferfish.

3.2 MB We came across this Spotted Moray hiding in some coral.

2.9 MB Here's some video of a Parrotfish feeding, and then being scared away by a Damselfish.

2.4 MB Here's a very small and flighty Long Fin Damselfish.

2.0 MB Here's a beautiful Magnificent Feather Duster swaying in the current.

3.1 MB This Spotted Cleaner Shrimp (originally misidentified as a Pederson Cleaner Shrimp) is hanging out with a Giant Anemone and is waiting for a fish to come up so the shrimp can clean it.

1.8 MB This is a Rock Beauty.
St. Marie Bay Reef

3.0 MB This is an Arrow Crab hanging out near a Cork Screw Anemone; you can make out some Pederson Cleaner Shrimp hanging out nearby as well.

886 kB This is a Balloon Fish hiding near some coral.

1.5 MB This is a fascinating shot of a Grouper being cleaned by a Cleaning Goby; you can make out the small parasites moving on his back, running away from the goby.

1.4 MB We saw many eels during this trip; here is some video of a Golden Spotted Moray I managed to get.
Habitat Curacao House Reef

1.9 MB The Peacock Founders we saw were quite large; here's one swimming.

1.6 MB I'm fairly sure that this is a Barracuda; he has quite beautiful coloration.

753 kB Many fish have coloration that shifts as they age; this is a Juvenile French Angelfish.

1.1 MB Banded Coral Shrimp were usually hard to shoot; they were usually found underneath ledges to where the lighting would make getting a clear shot of the whole shrimp difficult.
Daaibooi Bay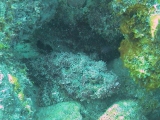 Scorpion Fish are always well camouflaged. I would have missed him had someone not pointed him out to me.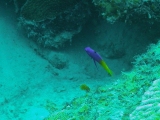 Fairy Basslets are very hard to get a good shot of. They tend to be kinda small, and very timid.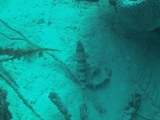 Easy to shoot, Lizardfish don't move much and can occasionally be aggressive when they do.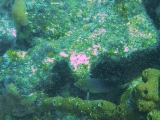 There were a lot of Three Spot Damselfish, and they could get quite pushy (pseudo aggressive). I'd call them "modelfish" because they would often block shots of other fish, and they have these big eyes that look like they are wearing eye liner, and big lips too.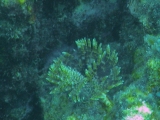 As you can see, there's a reason they call these Feather Dusters "Magnificent." Actually a kind of worm, they can be quite timid if approached too closely.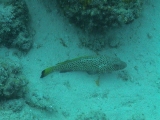 I'm guessing this is a Red Hind, as the coloration doesn't match anything else in my fish ID book.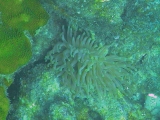 This is a rather plain looking anemone; I have pictures of ones with better colors.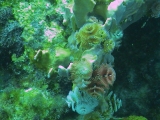 There were always a lot of Christmas Tree Worms. These guys, if you get too close, pull their "trees" back into their bodies.
St. Marie Bay Reef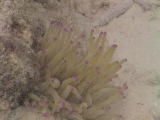 Here's a Giant Anemone with some coloration on the tips.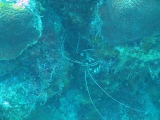 Though bigger than other shrip we found, these guys were almost always hiding underneath something, making it hard to take a photo. My video camera can take stills, but flashes are a problem, and during the day, the lights aren't worth the extra hassel.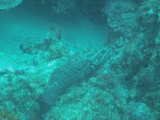 Though I can't make out the spots on the back, the rounded tail leads me to believe this is a Graysby.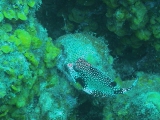 There were a lot of Trunkfish about.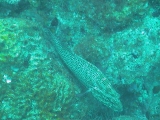 A different Graysby. If you look carefully, you can see the coloration spots on the back ... look for a change in intensity of the spots.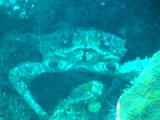 I zoomed in a little too much on this crab ... but it's the only picture (still or video) that even came close to coming out.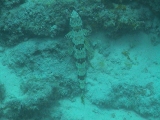 As Lizardfish don't move much, they are easy to shoot, and I would take many shots when I came across one. Particularly if they were kinda big.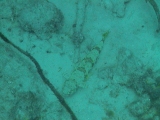 Same guy ...
Habitat Curacao House Reef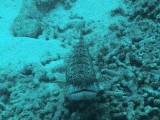 A Lizardfish. I have lots of shots of these.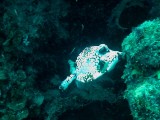 A Smooth Trunkfish; note the patterns on the side of the body.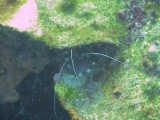 Another hiding Banded Coral Shrimp.