I got over my depression of flooding the digital video camera and my sister gave the Sea&Sea Mx5 I loaned to her back.
Diving off of Curacao:
Directions from Tampa: Well, you're not gonna drive there. Curacao is smack dab between Aruba and Bonaire, off of the northern coast of Venesuela.
Conditions on the day of my visit: Sunny.


Personal Notes: My sister had asked me the day before if I wanted to take the Mx5 back and use it on those dives; I told her I'd rather just dive instead of bothering with a camera.

We were originally scheduled for a different site for the second dive, but the day before, we were supposed to find a Seahorse on the second dive that day. Carlos felt bad about not finding it for us, especially since the other D2D boat did see the Seahorse when they visited the site. So they snuck us to "Long Beach," so named because it's off of a long beach (which are rare on that side of the island). We were granted with the sighting of four different Seahorses ... though on the surface, we teased Carlos a bit about being able to sneak down such life like mechanical Seahorses!

"First of January," Tuki explained, was so named either because of the weather on Jan. 1, 1998 (I think it's 98) that did a lot of damage to the reef. It's still recovering to an extent. Strong storms can topple large coral heads and cause a lot of damage; typically, the rock comes first, then the coral, and after some time, fish life. No coral, no fish life ..
Pictures!
These pictures were taken with the Sea&Sea Mx5, as the Sony PC110 DV Camera was in the midst of drying out.
First of January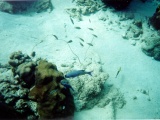 These guys swam in very large schools. Creole Wrasse are interesting to watch when they pull up to a Cleaning Station; they stick their lips out, which are white and contrast highly with their blue coloring.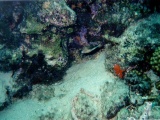 This Sharpnose Puffer didn't want to have his picture taken, so it was amazing that this came out as well as it did.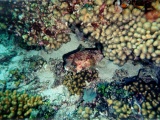 Here's a Balloonfish hanging out under some coral.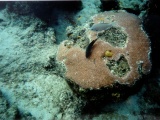 This is kind of what a cleaning station might look like as far as areas are concerned ... the fish pull up, the smaller cleaning fish hop on them, swim around and clean off parasites.
Long Beach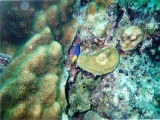 Fairy Basslets tend to be hard to shoot. Small and flighty, they don't stand still and don't let you get too close.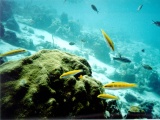 The yellow guys are kinda small, and I didn't find them that easily in the fish ID book.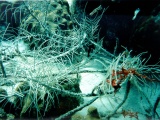 I didn't know how close I could get and if I was even going to get a good shot of the Seahorses we saw.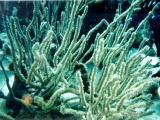 I dunno if I could have done much better with the digital; this is a surprisingly good shot of a Seahorse.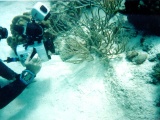 Seahorses actually are quite tolerant of divers, providing you don't touch them. They let you get quite close.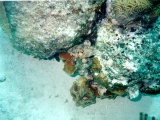 Here's a shy Balloonfish hiding in some coral.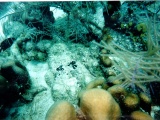 During our visit to Long Beach, we saw at least four Seahorses. They are quite cute but hard to photograph due to where they hide and how small they tend to be.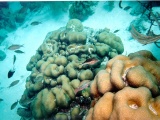 This Sharpnose Puffer is kind of cute ... never saw one of these puffed up, but most of the ones I saw were quite small.



Dive data for dives on this day:


| Dive | Site Name | Max Depth | Minutes | Water Temp |
| --- | --- | --- | --- | --- |
| 115 | First of January | 86 feet | 55 min. | 81 F |
| 116 | Long Beach | 41 feet | 61 min. | 81 F |