Seldom-Spanish Anchor

1.3 MB I really like the look of Yellowtail Damselfish; the bright blue spots seem to glow.

2.8 MB Juvenile Drums look nothing like the Adult Drums, and they are quite cute.

1.1 MB In this video, Tuki has coaxed out what looks to be some kind of baby eel from a Red Heart Urchin; he attempts to coax the eel back into the the urchin but it swims away ... and gets eaten by a goby!
Seldom-Drift

208 kB During the first part of the drift dive, we were shadowed by a Barracuda.

985 kB There were several wall-like sections that we drifted by. Here is a shot shooting from one side of the wall, up, and then over to the other side of the wall, with divers for perspective.

2.7 MB Here's some video of another cute Juvenile Drum. I had just hit 15 feet to resolve a safety stop requirement that my Cobra dive computer has, when my sister called me back down to take footage of him.
Seldom-Spanish Anchor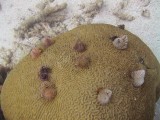 A little neighborhood of Christmas Tree Worms.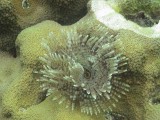 A Magnificent Feather Duster. Worth taking video of, because in even light current these guys sway.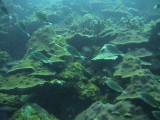 The whole side of the island that the Habitat is on is pretty much all coralized.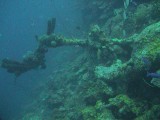 One of the reasons this section of Seldom has the name "Spanish Anchor".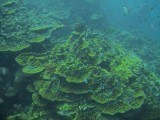 More coral.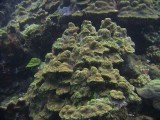 And even more coral.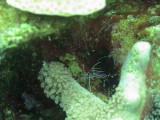 Pederson Cleaner Shrimp are usually quite small, and though numerous, are hard to get a good shot of because of their size.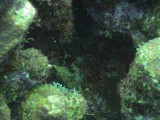 A Spotted Trunkfish.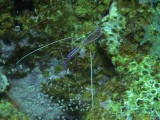 Another picture of a Pederson Cleaner Shrimp.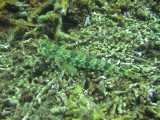 And the "Just Shoot Me" Lizardfish.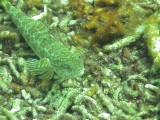 Probably same guy, different angle.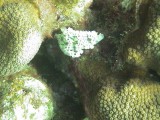 The term "slug" doesn't seem apporpriate to this Lettuce Sea Slug.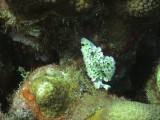 Another picture of the Lettuce Sea Slug.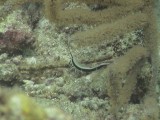 A shot of a Juvenile Drum. Best as a lead in to the next shot ...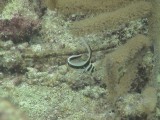 An extremely good shot of a Juvenile Drum from what I'd guess was about eight feet away. He's quite small.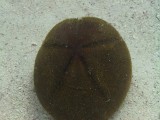 Some call these Red Heart Urchins "Sea Biscuits."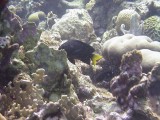 A Yellowtail Damselfish that didn't want to have it's picture taken.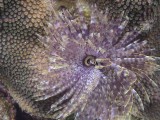 Another very pretty Magnificent Feather Duster.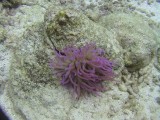 One of the better photos I have of a Giant Anemone.
Seldom-Drift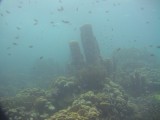 Coral.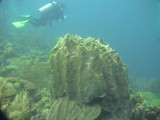 More coral.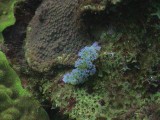 Lettuce Sea Slugs can vary widely in color, in various shades of blue and green.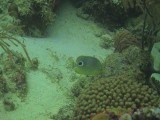 Lots of Four Eye Butterfly Fish were around, but they moved too much to get good photos of.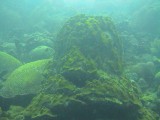 And even more coral.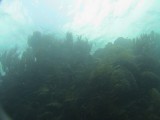 One attempt to shoot up the wall that we were drifting past.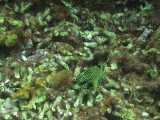 A Smooth Trunkfish.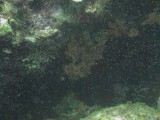 Don't ask me to identify these little guys, they are miniscule! But they are fish, not sand.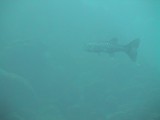 A shadow followed us for a while.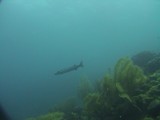 Here's a better shot of that shadow; a Barracuda.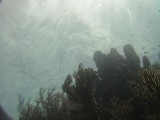 And I thought I got the best "Up The Wall Shot" I was going to get when ...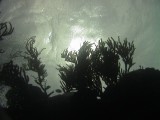 I find an even better one.