Tunnels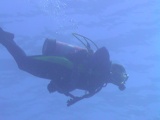 Fred of Grand Bahama Scuba.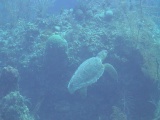 A small turtle we came across.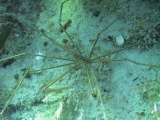 Arrow Crabs are one of those creatures that make me tempted to go back to film (still) photography. With digital (or at least with my camera), the depth of field isn't always there to get more of these guys in focus.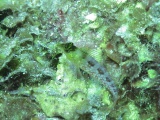 Definitely a blenny of some kind, I'm guessing this is a (slightly blurry) Diamond Blenny. Little things require both getting close and zooming in to get a good shot, but then keeping the focus isn't that easy.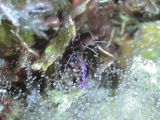 A Pederson Cleaner Shrimp hiding next to an anemonie.
Shark Junction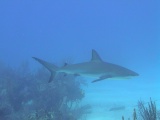 Shark Junction is where a lot of feedings take place. We visited the site between feedings, and there were still quite a few sharks around. They waited a bit to see if we were going to feed them and then wandered off.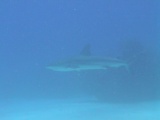 Rarely did they get close to us.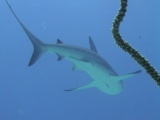 I always feel a bit safer being below the shark.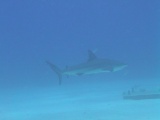 These are all Caribbean Reef Sharks, from what I understand.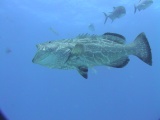 There was a large Black Grouper at the site; I don't know if he was yawning or eating something, but this is what most people see when one of these is stuffed and mounted.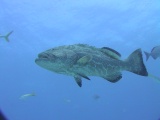 This is how divers usually see them.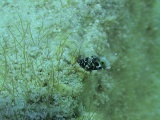 Not sure what kind of Blenny this is, but when I realized that these tiny little guys (like less than five millimeters across) were all over the platform the feeder uses to feed the sharks, I did what I could to get shots of them.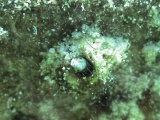 They were so funny and not really all that afraid, even though they stayed in their little holes.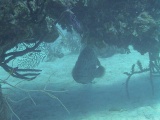 A shot of the grouper again, hiding underneath some coral.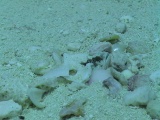 From his behavior you might think that this was a Jawfish, but it looks more like a Palehead Blenny.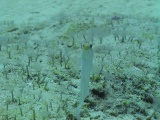 Now this is a Yellowhead Jawfish. These guys are funny how they back down their holes when you get too close.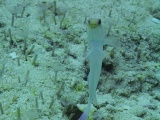 Here's another shot of one.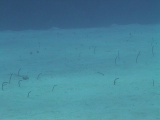 Garden Eels are very hard to shoot up close ... they retreat even when you're just in their general area.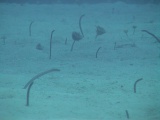 There is a big patch of Garden Eels at Shark Junction in the "feeding circle."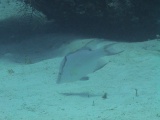 Probably a Hogfish, or something very close to one.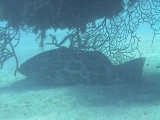 The Black Grouper hiding out again.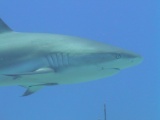 Another shark.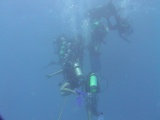 If there's ever a motivation for being able to have good buoyancy control, this is it. Here's a bunch of divers in little to no current trying to hang on to the same spot at 15 feet on a line.
Silver Point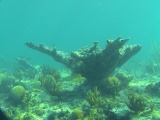 The shallow nature of this reef made seeing this formation a surprise; at shallower points, the glass bottom boats have been known to scrape the reef.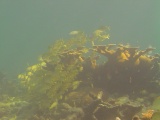 A very large school of fish. Pretty much the same picture as the next photo, but both are included because I'm not sure why the color scheme is different between them - maybe a trick of the "auto light level" thing with the camera; maybe something to do with the red light filter (which I rarely take off during the day).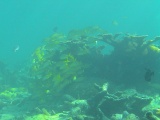 Same school, not sure why it looks so different.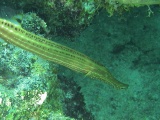 I've started taking more pictures of just the head of a Trumpet Fish, rather than the whole body, since they are long and skinny.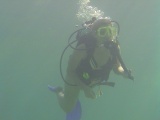 One of the new divers.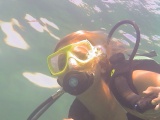 Same diver, head shot.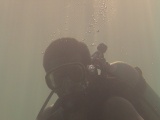 Another one of the new divers; considering the visibility, this is the best shot I have.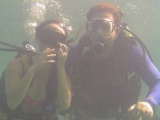 Fred was very patient with this one; she was incredibly nevous and had one hand on her regulator, and her other hand on Fred. Not that Fred would complain all that much ...