Eagle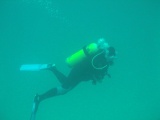 A photo of my sister.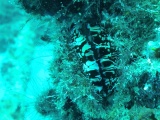 On the Eagle - I'm guessing it's a mollusk of some sort. I don't want to claim it as a crab or something because I'd probably be wrong.
Hens and Chickens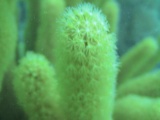 I really like macro shots, and this is the closest I get to being able to get a good one. This is the tip of some soft coral.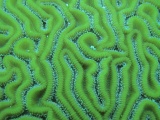 I guess this might qualify as an attempt at a macro of some brain coral.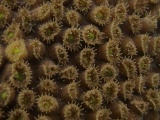 These coral polyps looked cool.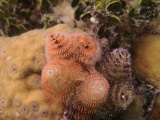 Three christmas tree worms hanging out.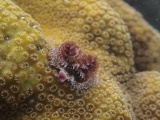 Where a macro lens would come in handy would be to get some detail from Christmas Tree worms like this one.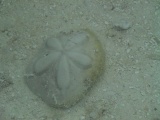 This (probably dead) sea biscuit was spotted by my sister.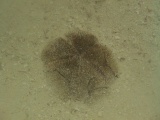 Here's one that's most likely live.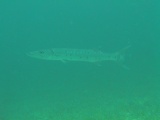 We had a couple of barracuda that would check us out from time to time.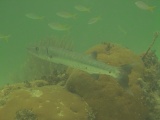 Here's one a little closer, with a little better color.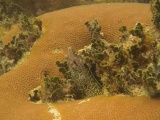 An eel.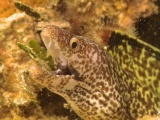 A little closer view of the eel, giving some more detail - particularly his teeth!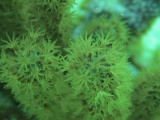 Another attempt at a closeup of some coral.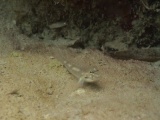 Goby's stand still but if you get too close they hide. And since this particular species is translucent, it's often hard to get a good shot of them that doesn't have them disappearing into the background.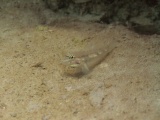 Here he is again.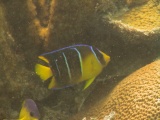 This is a Juvenile Blue Angel fish. I don't recall having seen that many since I started diving, and blue angels tend to be confused for queen angels sometimes - both also tend to be a bit more skittish when it comes to divers, I think.
Triple X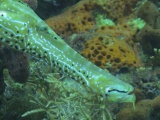 The head of a Trumpet Fish.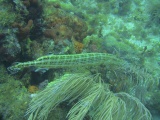 Here's a view of the Trumpet Fish with a bit more of an idea of how they like to hide.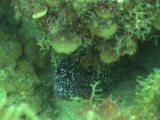 This spotted eel was a bit shy, and actually it was surprising we found him.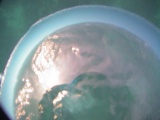 This is a self portrait taken in my sister's bubbles. If I remember correctly, there was a nasty thermocline about ten feet off the bottom, so I spent a portion of the dive above everyone, trying not to get frozen.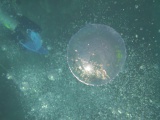 You can see a bit more of my reflection in the bubble.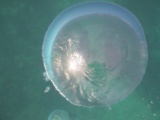 Okay, I guess I was bored and really wanted to make sure I got the shot.
Snappers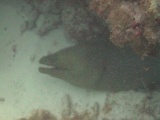 A Green Moray Eel.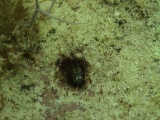 Blennys (blennies?) are also good subjects for macro photography. This is the best I can do with the camera I have (since it's meant for video).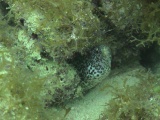 Spotted Moray Eel.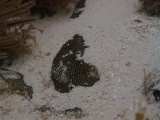 This is a Yellow Ray hiding in the sand.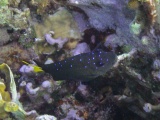 Every time I see these Damselfish I'm amazed at the brightness of the blue spots.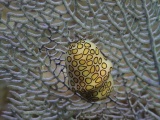 A Flamingo Tongue - if I'm not mistaken, a kind of snail.