May 6, 2003 - May 7, 2003 - May 8, 2003 - May 9, 2003 - May 10, 2003

May 5, 2003: Cozumel, Mexico
"San Francisco" - "Tormentos" - "Punta Tunich" - "Chankanaab Reef"


First day of diving - diving with Del Mar Aquatics. Nice big boats, they are the dive shop of choice for Casa Del Mar and another hotel (maybe more).
Diving in the Caribbean Sea:
Directions from Tampa: This is one of those trip things. Getting there from Tampa usually involves a plane ... though it could be a boat ... but you won't be driving there. Cozumel is "in" the state of Quintana Roo, Mexico.
Conditions on the day of my visit: Sunny, nice breeze


Personal Notes: The dive masters make adequate tour guides but if you're inexperienced, make sure they know that, and buddy up with someone who has quite a bit more experience and doesn't mind keeping an eye on you.

My only other complaint about this day with Del Mar Aquatics was that they gave us very little time between reaching the dock in the morning and when the boat left for the afternoon trip (30 minutes at most). We barely had enough time to get food (and it had to be a club sandwich) at the Casa Del Mar restaurant.

The good news is that you should be back in plenty of time to hit happy hour at the hotel bar (4pm-6pm). There's also a poolside shower that's perfect for your and your gear.
Pictures!
San Francisco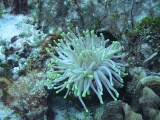 A relatively healthy looking Giant Anemonie.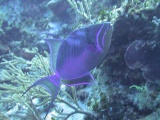 A pretty queen trigger.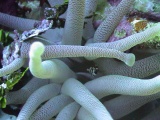 There's a little tiny File Fish hiding in this anemonie.
Punta Tunich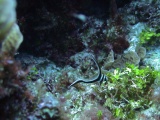 Juvenile Drum Fish are always so cute. Especially when compared to the adults.



Dive data for dives on this day:


| Dive | Site Name | Max Depth | Minutes | Water Temp |
| --- | --- | --- | --- | --- |
| 204 | San Francisco | 70 feet | 38 min. | 82 F |
| 205 | Tormentos | 61 feet | 48 min. | 82 F |
| 206 | Punta Tunich | 67 feet | 42 min. | 82 F |
| 207 | Chankanaab Reef | 52 feet | 54 min. | 82 F |