Ulong Channel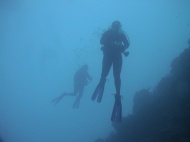 One of these divers is Kelly, and the other is Jamie. The only reason I know that is because they were the only two on my skiff with blue split fins.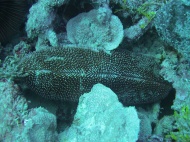 I don't know what this is but I'd spot at least one on every dive. It's not attached to the coral or sand, but doesn't appear to be mobile, either.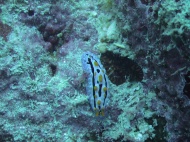 A very pretty nudibranch (well, pretty for a nudibranch).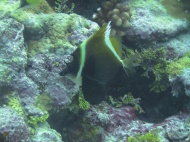 I don't know what kind of fish this is but it had a funky head and this was the best shot I got of one.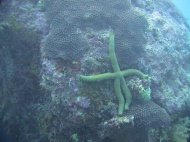 This Sea Star was on the side of a coral patch, and it looked like it was giving me directions or something.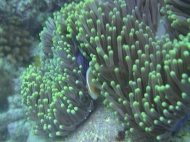 Though it's a little blurry, I think this is a rather cool picture of an anemonie fish. Amazingly enough, I don't have any other stills of these guys.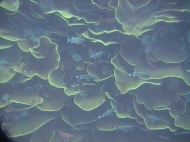 I'm quite a distance away from the lettuce coral here, and I am zoomed all the way out. This is the largest known patch in the World, from what I was told.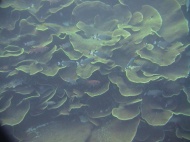 Another section of it. Those are some pretty big fish actually.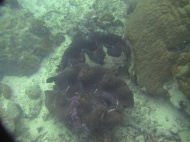 These two clams - one of them could have eaten me! They were very big.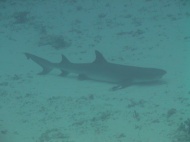 This shark (a Gray Reef I think) was just sitting there breathing. I have video of him opening and closing his mouth.
Saies Tunnel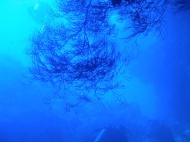 The size of this soft coral growing out of the top of the tunnel made it worth posting, though the coloring is sucky.
Inside the tunnel, using my light to try and get some detail and color of this fish.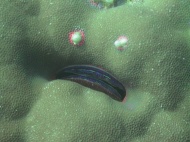 This clam (or whatever) looked funny. I don't know what the "eyes" are.
Blue Corner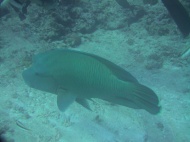 Another Blue Corner dive, another visit to the Napoleon Wrasse.