Fern's Wall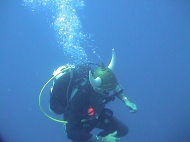 Who is that Diving Viking? It's Joe Bennie!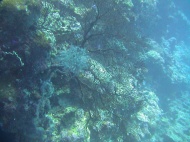 This coral tree was quite large.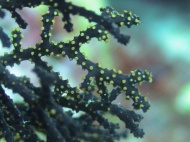 Smaller coral trees had these yellowish orange dots on them. Here's an attempt to get a closeup picture of them.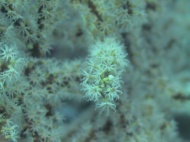 And again, another attempt to get a shot of the polyps on this soft coral.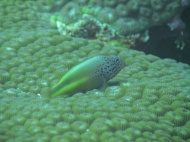 Not sure what kind of fish this is but he looks cool.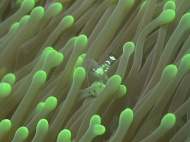 This shrimp fustrated many of the photogs that got there after I did. Joe Bennie for one was ticked that he didn't bring his camera on this dive, as he was looking for one of these guys.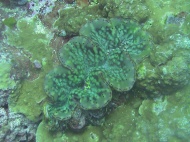 Here's a clam with his fleshy part all the way out.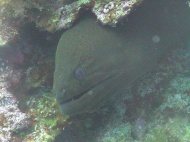 Moral Eel.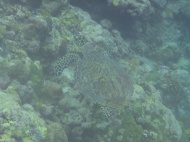 The coolest thing about this dive was when I hit my safety stop, here was this small (maybe 2-3 feet long) turtle keeping me company ... so I extended my safety stop a while and hung out with him.
Blue Corner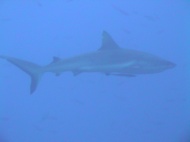 Again at Blue Corner, we're hooked here - and this is probably the best shot of a shark I have for the whole trip. I'm guessing this is a Black Tip Reef Shark.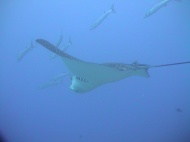 This Eagle Ray they named Big Head. He's headed away from me so you can't really see just how big his head is, but you get the general idea.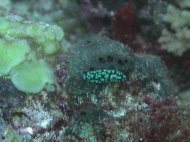 This tiny (about an inch) Nudibranch was hard to shoot, because of where he was and the surge. So he's a little blurry. But a cool shade of green.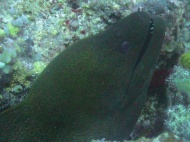 Even though there were a lot of them, I was always surprised by Eels.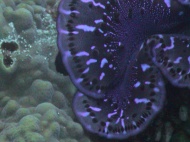 I tried to get a close up to get some detail of this clam, particularly considering the beautiful purple shading of its flesh.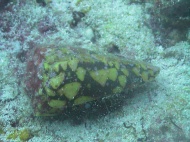 This hermit crab wasn't quite as hard as the Nudi to shoot, but he was still in a tight spot with the surge going.