Phil Foster Park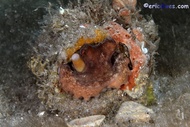 One of the first things we saw was an octopus, looking out at us from his den.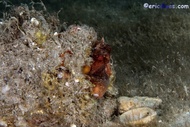 A side shot of the octopus in his den.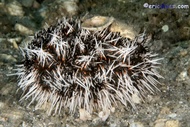 One of the many many sea urchins.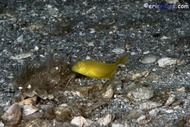 Some form of wrasse.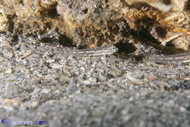 I'm guessing this is a Bridled Goby.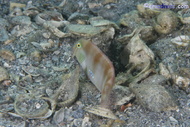 Not sure - guessing it's some form of Wrasse or Razorfish.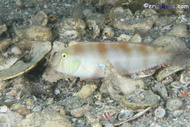 It looks mostly like a Razorfish, but I can't find anything in my ID book that has markings that match.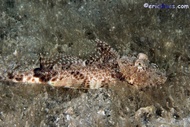 I thought this was a Flying Gunard, but my buddy Paul says it's a Sea Robin, which is a close relative to the Flying Gunard.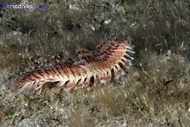 Fireworm.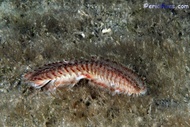 There were several of them.
A very close up shot of the spines on one of the fireworms.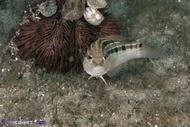 Sand Perch.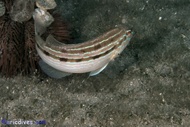 Sand Perch.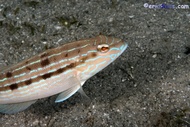 Sand Perch.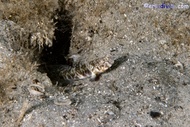 I got a shot of this (Orangespotted?) Goby, and was getting ready to move on when I noticed ...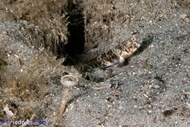 A miniature dune of sand being pushed out of his hole.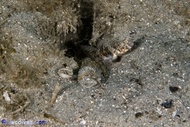 He had a Snapping Shrimp friend.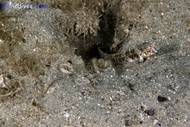 I spent a lot of time watching this pair, taking many pictures.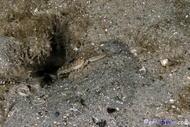 Here's a good shot of the shrimp by himself.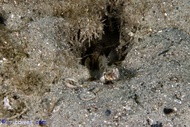 A shot into the den.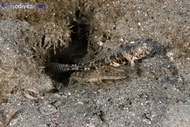 And the best shot of the batch - the two of them side by side.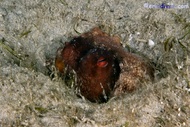 Another octopus in a hole. He was very shy.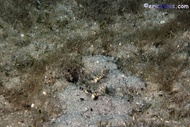 More Goby, possibly Orangespotted.
A couple of fireworms.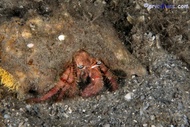 Hermit crab that was hiding out in the shadow of a boat.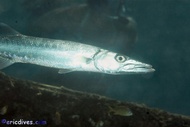 A small barracuda (and a snorkeler behind him).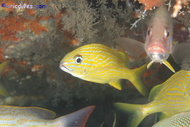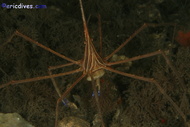 Arrow crab. This guy was very large!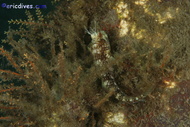 This (I would guess) Seaweed Blenny was hanging out on the wreck.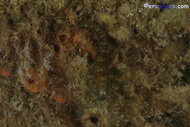 This particular Blenny blended in well with his background.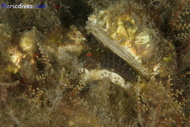 I would guess he's a Seaweed Blenny.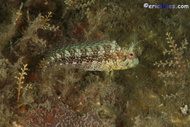 I would bounce between the two. Though supposedly both "Seaweed Blenny", they had very different colorations. It's the markings on the head (and supposedly an "obscure" spot on the gill) that would ID them as Seaweed Blenny.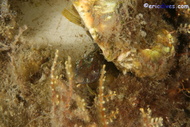 Same blenny as a couple of shots ago ... poking his head around the corner of the rock he was hiding behind.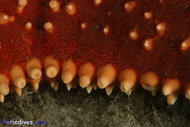 An extreme closeup of a small part of a very large Sea Star.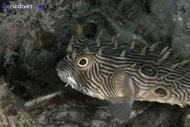 A Striped Burrfish.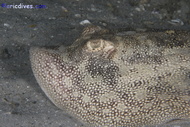 A Yellow Stingray that was hiding under one of the wrecks.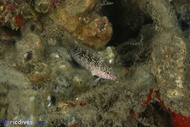 I suspect this to be a male Rosy Blenny due to the red on his chin.
Another shot of the male Rosy Blenny.