Call 1-407-WDW-TOUR and ask for DiveQuest. Cost is about $140. There are two dive tours, one starting at 4:30pm, the other at 5:30pm. The 5:30pm one usually puts you into the water about an hour before feeding time, so the fish are more active and more likely to come close to you. Only problem being is that the park attractions close at 9pm (the fireworks start shortly after that) so if you do the later dive, you're likely to come out right as the fireworks start...which also means you'll have to get dinner either before your dive (and unless you've paid the regular entrance fee, someplace other than at Epcot) or after the dive (again, outside of Epcot).
Diving in the Living Seas Exhibit:
Directions from Tampa: Go east on I-4. Being a Disney park, you can't miss it.
Conditions on the day of my visit: Sunny but very comfortable. With a little suntan lotion, the park was tolerable and I didn't really feel tired when 4:30pm rolled around.


Personal Notes: We met our tour guide at Guest Relations (bring the non-divers too...they get a tour of their own). After submitting our C-Cards for inspection and being asked our sizes (for the shorty and the booties), we were given a nice comprehensive tour of The Living Seas, as well as information about particular fish, the fact that they have Graduate Students doing interships, and the tank itself: landmarks inside, construction, and what the bottom is made of (crushed oyster shells). We saw an introductory video, signed our releases (you're diving, and as a diver you take responsibility for the standard risks of DCS, etc) and were shown to the changing/shower rooms. There we were given decent sized lockers and our shorty and boots were in labeled bags waiting for us (okay, just plastic shopping bags with our names in marker, but hey, they were quick)! After suiting up, we were walked into the exhibit (I wish I had said hello and caught the attention of some of the kiddies) and up a stairwell hidden in the middle of the Observation Deck. One flight up we were introduced to our Dive Masters and Videographer. We were warned about how not to approach certain fish (the turtles can mistake a certain wave for squid, which they eat; and it was "spring" for the dolphins, who were in a gated area that we did not have access to), how the guided part of the dive would go, what certain sign language, and tank tapping signals would mean. Then we were guided into the water platform where we could put on our gear comfortably, told to inflate and head for the decent/ascent bouy...

The rest you should see for yourself. Playing with the people on the other side of the glass is almost as much fun as swimming with the fish (and sharks!). Kids in particular seemed confused as you swam by...they didn't seem to quite get that you were real and could see them even if you looked straight at them...but the moment you waved, they would even try to follow you around the tank! It's even hard not to get caught up in being the fish that can look back. I have never had so many total strangers taking my picture at the same time. It's also hard not to annoy the folks who are eating their dinner at the Coral Reef Restaurant. ;)

This will likely become a yearly event for me. It has been my best dive so far. I had 1100 psi when they told us it was time to surface (we had been told that if we got down to 500 and there was time, they'd switch our tanks), and I could have gone in for three or four tanks and still have been excited about being there...I still haven't seen the whole tank from inside it...only about 75% of what they let you in to!
Videos!
My Codecs Page so you can get what you need to see these.

Videos from the tank! You must have the Intel Indeo5 drivers. Note that they were pulled from the original video and constructed with a data rate of 96Kbps, 15 frames per second, at a size of 240x180 pixels. This all translates to about 10 sec per 1 MB, for a reasonable quality vs size. All videos are copyright Disney and are used without permission...so I might get sued or at least told to take them down. :) Also, in the descriptions grammar is sacrificed to show the order of people in the video.
Living Seas Exhibit

1.6 MB Before we went through the coral shute, my sister pointed out to me that she had seen our parents (this video starts with me telling her I see them). The dive master then assigns us numbers before we go into the shute... (1.6MB)

4.3 MB Here we are coming out of the shute: Tom (my brother-in-law), Suzuki (my sister), Rudy (my friend), and me, what my sister called (as we watched the video with our parents) the 'Bald-Eagle Ray' (there are Eagle Rays in the tank). My hairline made it easy for people to spot me in the video... (4.4MB)

4.7 MB My family and friend. The divers are (from left to right) Suzuki, me, Tom, and Rudy. The important people behind the glass are my Mother and Father (Dad's the one with the camera). (4.8MB)

2.0 MB One of the two sea turtles in the tank; the dive master tells us it's the male. At the beginning of the video, that's my butt in the upper right hand corner. (2.0MB)

7.1 MB They have a bathescape, or dome in the tank. This one has sound but it's not like you can make anything out aside from the videographer's breathing. Of course, it's Suzuki, Tom (who finds it necessary to wipe his nose, then his hair...yuck!), Rudy (who basically does what Tom does, yuck!), and then me. Don't ask me what I said...since you can't hear me, it's kinda lame for me to have to explain... ;) (7.2MB)

5.8 MB Me, Suzuki, Tom, and Rudy watch one of the dive masters put a grouper into a trance using the crushed up oyster shells that make up the bottom of the tank. Again, at the beginning of the video we get a shot of my butt. Next time I really must keep better track of the videographer. (6.0MB)

3.4 MB Rudy and I are stalked by the three sharks. (3.5MB)
Pictures!
One is captured from the video.
Living Seas Exhibit

This is my sister, me, and my brother-in-law in the water with my parents behind us in the Living Seas exhibit. That's my Dad with the camera in front of his face, and my mom next to my sister's bubbles. As for my face, I'm starting to exhale...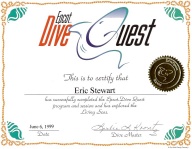 My DiveQuest Certificate (warning, fullsize image is big).



Dive data for dives on this day:


| Dive | Site Name | Max Depth | Minutes | Water Temp |
| --- | --- | --- | --- | --- |
| 14 | Living Seas Exhibit | 28 feet | 43 min. | 76 F |