Rudy mentioned this to me and I dug into it. I hadn't done a fresh water dive in a while so I suggested that my sister and I do this and Crystal River. She said it was too early for Crystal River; the manatees aren't there until January or February. So we did this dive and the Gulf.
Diving in the land of the Mermaids:
Directions from Tampa: Weeki Wachee is just south of the intersection of State Road 19 and State Road 50. Weeki Wachee is technically it's own city, but I've seen it referred to as part of Brooksville, as well as part of Spring Hill.
Conditions on the day of my visit: Sunny, cool shorts weather.


Personal Notes: It took three calls to the Weeki Wachee Best Western Resort to get the trip arranged. On the first call, they didn't have the pricing for the night's stay/scuba dive package. On the second call, the person on the other end said "Everyone's out sick and it's just me, and I'm with a customer, I'll call you back." Finally I was able to get a warm body to give me pricing and set everything up.

This was an excellent spring dive. No major caverns, though there is an overhead that the adventurous advanced diver can try to make their way through. At the time of my dive, visibility was 100'+ and there was thick, deep, hair type algae in the basin. Neptune Divers is working on cleaning it out and replacing it with sea grass. Aside from looking at the props for the mermaid shows (including a castle), there are turtles, mullet, and other fish. They also play music for you while you dive. Lucky winter divers might see a visiting manatee or two ... rumor has it they've even bumped the mermaids during a show. Max depth I reached during my four logged dives was 43 feet (at the very bottom there's a grate at supposedly 80 feet, but you have to claw your way down, holding on to ledges and fighting the flow). Longest one we did was 27 minutes.

My sister and I squeezed in two morning dives on one tank (you are limited to three dives, really, but if you do your surface interval for 10 minutes and don't get out of the water, they most likely won't stop you). Then there was my stupid attempt at an afternoon dive ...

I had been having sinus problems related to some major allergies that I had been suffering through. The two morning dives went through without a hitch, mostly, though I had taken Severe Congestion Afrin an hour or so before the dive. After watching the mermaid show and wandering around the park, we went in around 3:00pm just after I had taken my Afrin squirts and then blown my nose, and I had problems clearing my right ear. That cleared up quickly but then my left ear wouldn't clear. To make it more interesting, there was apparently some blockage in my left nasal passage, so I'd have to clear that, then try to clear my ear. After 14 minutes, and making it to 39 feet, I called the dive. I had tried to call it earlier; however, my sister misunderstood my hand signals (it took me a while to get the thumbs up straight; that usually means 'Go up/Surface', but I had been using it for 'Okay' .... I got it straight but my dive buddy didn't know that ... especially since I just held it up and didn't move it up). On the way back up I suffered major reverse squeeze. This is one of those dive things that you don't want to suffer through. Potential embolism here. I should have called this dive immediately, even before the block shifted ears!

I got out, my sister continued diving with the safety diver, and I took it easy.

We waited until nightfall (and several squirts of Afrin), entering the water around 6:00pm, to do my first night dive. Clearing ceased to be a major issue beyond 'over clearing' and that weird nasal passage blockage. Scott of Neptune Divers showed us the bubble curtains and the 'lightning' used during the show ... it looked cool. It is a very good spot for night diving, too, as you can do a day dive, get really familiar with the spring, and then take a look at it at night. We saw a large catfish then ... my sister got hungry though and we ended the dive. Good thing I think because my legs were getting a little tired.

Do this dive. For about $60, you and a friend can have a room at the Best Western across the street and dives in the basin. It will look *really* good once they get the algae out. I'd suggest doing it in the off season when the water park part (Buccaneer's Bay) is closed. The show is great to watch, and what those mermaids do I could never do. Yes, they have an air hose, but they do loops and stuff without the opportunity to clear ears ... and they're swimming in 72 degree water without the aid of a wetsuit. Brrr! I'm a wimp! I had my skin, full wetsuit, and for the first two dives, a beanie hood.
Pictures!
Just a little picture my sister took that mostly didn't come out ... but just barely worth putting up.
Weeki Wachee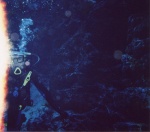 I had to crop a little from the original picture. This would have been (actually still is IMHO) a really nice picture if it weren't for camera issues. This is me near a wall ... I'd guess probably around 35 feet down. The yellow thing near my shoulder is a knife sheath. No, I didn't drop the knife; you're not allowed to take knives into the water at Weeki Wachee. It's just not worth the trouble to take the sheath off of my inflator hose.



Dive data for dives on this day:


| Dive | Site Name | Max Depth | Minutes | Water Temp |
| --- | --- | --- | --- | --- |
| 24 | Weeki Wachee | 41 feet | 10 min. | 74 F |
| 25 | Weeki Wachee | 43 feet | 27 min. | 73 F |
| 26 | Weeki Wachee | 39 feet | 14 min. | 73 F |
| 27 | Weeki Wachee | 43 feet | 21 min. | 70 F |