Long Cay Ridge, Long Cay (Lighthouse)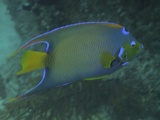 A large Queen Angelfish, with the crown clearly visible.
A better shot of that Queen Angelfish, though I cut off her tail.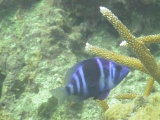 First time I've seen an Indigo Hamlet that I can remember. Very beautiful fish - these photos don't do them justice, unfortunately.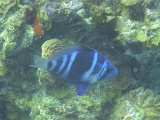 Same guy, slightly better shot.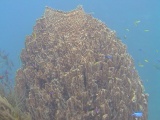 Here's a shot of a coral head. Humann has a book out about identifying corals, but I don't have it yet.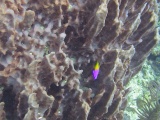 A closeup shot of that same coral head. Lots of small fish live among these, including what is probably a Fairy Basslet in this photo.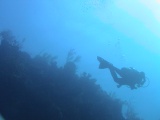 Dunno who this is, it just made a good shot.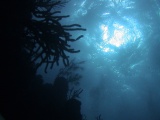 You know me and the "Giver Of Warmth." The surprising thing is that I think this is the only shot I took like this this trip.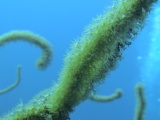 Again, I need to get Humann's book - this is a closeup of a soft coral, with more fingers flowing in the background. A little fuzzy, but all things considered, a good digital shot, I'd say.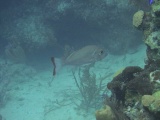 I knew it was a Snapper but it took a bit of digging through Humann's fish book to find it: Mahogany Snapper (the tail is the giveaway).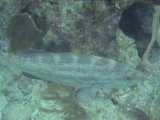 Grouper, probably a Black Grouper. He's probably being cleaned, too.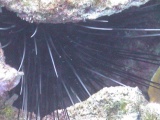 Long-Spined Sea Urchin. Hard to shoot for me - again, this is a depth of field thing with the digital camera (that's supposed to be a video camera, really).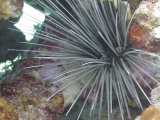 Slightly better shot of a Long-Spined Sea Urchin.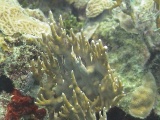 This sure looks like Fire Coral to me. Didn't touch this one to find out for sure (though I did run into some later in the week).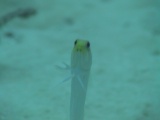 A Yellowhead Jawfish. Yup, they're all over if you know where to look.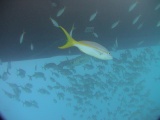 Dunno if it was this safety stop or another one but I had one of these guys facinated with me - dunno why. Maybe it's because I kinda look like a really big one under water.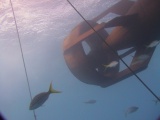 One of the props at the end of the sunken pontoon of the Nekton Pilot.
Nurse Shark Reef, Long Cay (Lighthouse)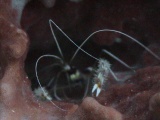 Blurry - probably gave the camera some trouble since he's in the dark. Banded Coral Shrimp.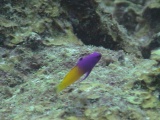 Blurry - but these guys are tiny and hard to get close to to get a better shot. The swim very fast.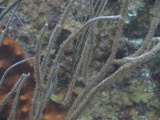 A Trumpetfish hiding in some soft coral. Well, his head anyway.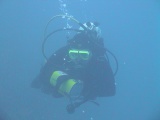 My roomie and usually my dive buddy, Papa (as in Papa Smurf), a fellow videographer.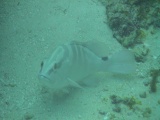 The spot (or "saddle") on the tail indicates that this is a Nassau Grouper - here he is letting me know I was getting a little too close.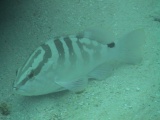 He settled down a bit and let me get a good shot of him.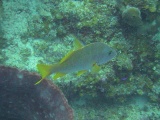 A Schoolmaster, obvious from it's yellow fins.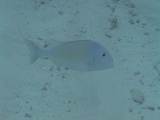 I'm guessing that this is some kind of Porgy.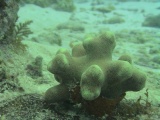 There's some video of this coral formation that's pretty cool, since you can see the surge move the polyps.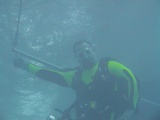 One of the D2Der's: Pasquale. He's hanging on to the deco-bar.