Last day of diving; I only did two dives this day.
Diving from the Nekton Pilot:
Directions from Tampa: The Nekton Pilot is a liveaboard that spends six months out of the year in the waters off of Belize. Their website is at http://www.nektoncruises.com/.
Conditions on the day of my visit: Overcast, and very cool, windy, nearing cold.


Personal Notes: I'm not one to push my limits too much, and my Cobra computer calculates a "Time To Fly" that can be greater than 24 hours. So when at the end of the second dive, my dive computer said "24:48 to fly," I called it a day.

Two Poles has one of the deepest "pins" (where the mooring line is anchored to the sand/reef) at around 65 feet. Also, it's a famous spot for Spotted Toad Fish, so I spent most of my time below 50 feet on the second dive. As such, I came 4 minutes away from going into deco - the closest I got all trip.

First dive though, I decided not to take the camera. Wouldn't you know it, free-swimming octopus, out and about for probably a good 10 minutes.
Pictures!
As I did not take the camera on the first dive, and most of what I saw on the second dive wouldn't show up well, there are only two photos.
Two Poles (Turneffe Islands)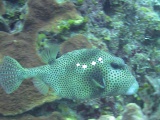 A Spotted Trunkfish, I'm guessing, though those four white spots are kind of odd.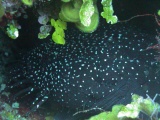 A White Spotted Toadfish. We saw two on this dive; but they are very reclusive and I was lucky to have gotten this one on film.



Dive data for dives on this day:


| Dive | Site Name | Max Depth | Minutes | Water Temp |
| --- | --- | --- | --- | --- |
| 197 | Two Poles (Turneffe Islands) | 71 feet | 52 min. | 77 F |
| 198 | Two Poles (Turneffe Islands) | 81 feet | 45 min. | 75 F |