Rhiannon's Reef, Half Moon Cay (LHR)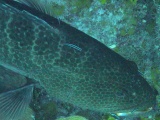 You can clearly make out the gobys on the back of this grouper, cleaning him off.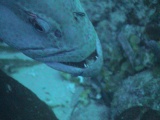 A little blurry but you get the idea; these fish not only clean the outside of other fish, they often clean the teeth and gills, too!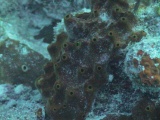 Some folks have a tendency not to see the reef for the fish. Here's a cool looking sponge growth.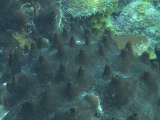 Another shot of some sponge growth.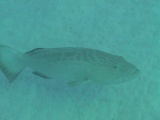 A Black Grouper in white phase out in the sand, blending in fairly well, actually.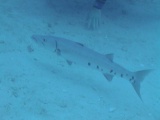 A Barracuda that was right underneath the boat. I think that's ChrisM's hand; he was taking shots with his still camera at the time.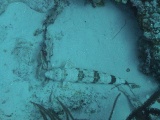 A Lizardfish waiting for food to swim by.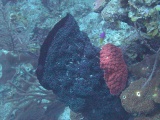 Another cool looking sponge.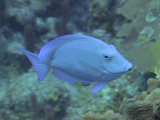 My photos of Doctorfish don't usually come out this well.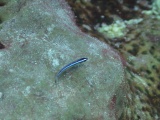 Fairly certain this little guy is a Neon Goby.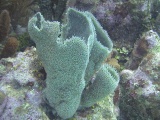 Eventually I'll start trying to really identify sponge growths.
Tarpon Caves, Half Moon Cay (LHR)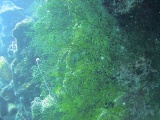 For lack of a better description, some "stuff". Doesn't quite have a coral look to it, but I'd guess it's a type of soft coral.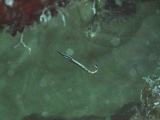 Only about an inch, inch and a quarter long, this is an Arrow Blenny. I took many a photo trying to get a good shot of him that wasn't too blurry. I think I did okay.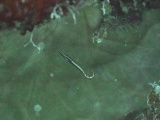 I did say I took a lot of photos of him.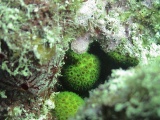 Some more "stuff" ... probably an algae or coral growth of some sort.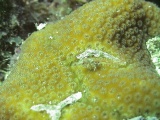 My guess is that this is a female Blackhead Blenny. A little blurry but then I probably got a little too close to her.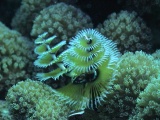 I've seen photos of Christmas Tree Worms like this one that make me want to go back to shooting still film sometimes.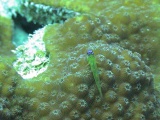 Fairly clear shot of a Peppermint Goby.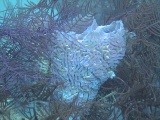 I'm guessing this is a kind of Vase Sponge.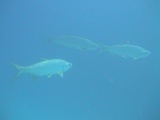 Three Tarpon we saw at the end of the dive, for which the site is named.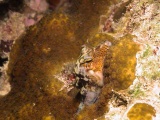 This rather large Sharp Nose Puffer is sleeping.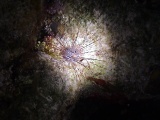 A crappy photo that looks kinda cool - an urchin (Long Spine, I think).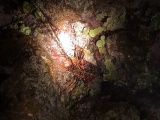 Lobster seemed more populous at night.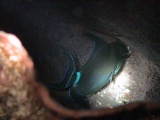 The answer to the question "Where do Triggerfish sleep?" - In barrel sponges, of course!
| Dive | Site Name | Max Depth | Minutes | Water Temp |
| --- | --- | --- | --- | --- |
| 188 | Rhiannon's Reef, Half Moon Cay (LHR) | 73 feet | 48 min. | 81 F |
| 189 | Rhiannon's Reef, Half Moon Cay (LHR) | 81 feet | 53 min. | 81 F |
| 190 | Tarpon Caves, Half Moon Cay (LHR) | 70 feet | 46 min. | 82 F |
| 191 | Tarpon Caves, Half Moon Cay (LHR) | 66 feet | 61 min. | 81 F |
| 192 | Tarpon Caves, Half Moon Cay (LHR) | 51 feet | 49 min. | 77 F |