Again, I missed a dive this day, but still managed to get four in.
Diving in the Dry Tortugas:
Directions from Tampa: At 70 miles west of Key West, still in (I think) US territory, you'll have to go by boat.
Conditions on the day of my visit: Sunny but still cool, particularly in th


Personal Notes: With all the diving I've done I hadn't seen a Goliath Grouper (or Jewfish, to the less politically correct of us) in the wild. At least not as close as we got this day.
Pictures!
I don't like the quality (or lack thereof) of the pictures ... my camera lense may need cleaning. Also, on the night dive, my lights didn't last that long, as should be somewhat evident. Also, I didn't want to get to close to something and miss the shot from hesitation.
2B PINN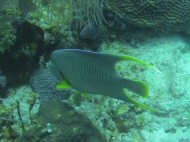 A Blue Angel Fish - sometimes mistaken for a Queen, but there's no crown.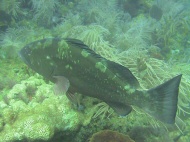 Definitely a Grouper of some kind.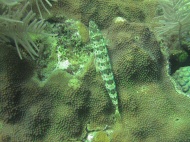 I think this is a Lizard Fish. But I've been known to mis-identify similar fish.
Windjammer Wreck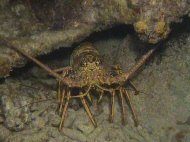 I didn't want to blind the poor guy so I kept my distance. A Lobster, if you didn't know.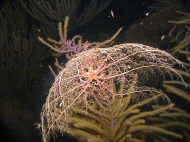 This I think is called a Basket Star. You don't see them like this during the day - they tend to stay closed then.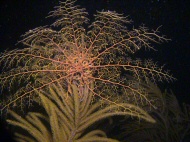 A better view of the Basket Star.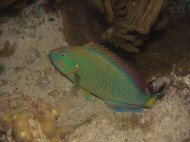 A parrotfish, probably sleeping.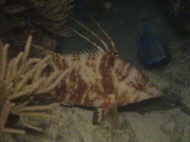 A Hogfish. From what I understand, these are hunted, and are supposed to taste good.



Dive data for dives on this day:


| Dive | Site Name | Max Depth | Minutes | Water Temp |
| --- | --- | --- | --- | --- |
| 249 | The Big O | 71 feet | 40 min. | 72 F |
| 250 | 2B PINN | 73 feet | 44 min. | 75 F |
| 251 | Playmate Rock | 48 feet | 36 min. | 72 F |
| 252 | Windjammer Wreck | 18 feet | 30 min. | 73 F |