This was a Friday, and my first day of diving on my "Little Keys Trip". Four dives planned, four dives dived.
Diving in the Florida Keys:
Directions from Tampa: Best bet is to take the Florida Turnpike south until it ends. Then you're pretty much at the Keys at that point ... keep driving until you hit Key Largo.
Conditions on the day of my visit: Mostly Sunny; very warm


Personal Notes: First site we hit was the Eagle. An old freighter that was supposedly carrying Eagle Tires when it sunk, it looks like what you usually expect a "wreck" to look like - recognizable as a ship, but pretty banged up. The hurricanes have not been nice to this wreck. She's ripped in half and bent out of shape, kind of on her side. It's a beautiful place for fish life though; there's four Goliath Grouper living in her (I saw two of them) as well as assorted other fish.

The rest of the day was reefs: Aquarium North, Captain Tom's, and Little Conch. It took me a while to get back into the swing of things; remember, my previous trip had me having close encounters with giant Manta Rays. But there's plenty of cool (and some of it's quite tiny) little fish life on these reefs ...
Videos!
My Codecs Page so you can get what you need to see these.
Aquarium North

3.2 MB A Balloonfish hanging out on the reef.
Captain Tom's

3.4 MB Some of these Porcupine Fish get up to 3 feet long! This guy was probably a good two feet - huge as fish go.

5.9 MB It just seems like Spotted Morays aren't given the respect by fish that something with teeth like theirs deserves. This guy was out and about, which is actually a tad unusual for morays in general during the day.
Pictures!
Aquarium North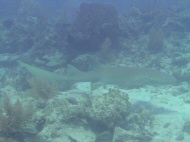 The only shark I saw the entire trip was this respectable Nurse Shark.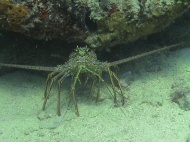 The Lobster seemed to know that it wasn't season for them yet - they were out and about and very friendly.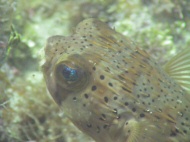 Balloonfish eyes are so cool and sparkly - I think it is algae.
Captain Tom's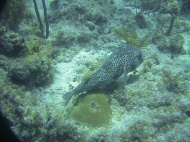 I'm always amazed at the size of Porcupine Fish when I see them. Compared to most of the other things on the reef, they are huge!



Dive data for dives on this day:


| Dive | Site Name | Max Depth | Minutes | Water Temp |
| --- | --- | --- | --- | --- |
| 334 | Eagle | 95 feet | 36 min. | 81 F |
| 335 | Aquarium North | 35 feet | 38 min. | 82 F |
| 336 | Captain Tom's | 57 feet | 44 min. | 82 F |
| 337 | Little Conch | 24 feet | 72 min. | 82 F |