Diving with my sister in the morning, and with John and Chuck all day. Some nice sites, and my virgin visit to the Spiegel Grove.
Diving in the Florida Keys:
Directions from Tampa: Best bet is to take the Florida Turnpike south until it ends. Then you're pretty much at the Keys at that point ... keep driving until you hit Key Largo.
Conditions on the day of my visit: Partly Cloudy, IIRC - mostly sunny later


Personal Notes: It was a great trip. Conch Wall we did as a drift, and turned out to be a very pretty reef. Horseshoe was a nice leisurely, wandering trip around the reef; my sister and I watched a conch move around a bit, among other things.

The Spiegel Grove is a huge ship - a Landing Ship Dock (LSD 32), it is 510 feet in length, 84 feet wide. The back door of the docking deck is open flat on the sand. We had a bit of current during our visit; and as it was John and I's first visit, Chuck wanted to show us all he could ... so there was a lot of swimming involved. If you ever go to dive it, plan on diving it twice on two different days.

The Grove had a lot more growth on it than I would have expected, since it's only about two years old (as a reef anyway) from what I recall. Add to that that it originally didn't have the most successful of sinkings (turning turtle at first, with the bow sticking out of the water, and then eventually they managed to get it to the bottom, but on its side), and that it experienced some movement in the summer of 2005 from a hurricane (which, it would seem, gently picked it up and then set it down upright), it's surprising that it's got as much growth as it does, and yet is still in fairly good condition as far as wrecks are concerned.

After the Grove we spent some time on Frenchie's Reef. I didn't take the camera, and wouldn't you know it, John and I spent some time watching a grouper get cleaned by two Pedersen Cleaner Shrimp, a number of Neon Gobies, and a Banded Coral Shrimp, the last of which actually went all the way into the grouper's mouth, and came back out again!
Videos!
My Codecs Page so you can get what you need to see these.
Conch Wall

4.4 MB Parrotfish in general are some of the bigger fish on the reef, but this Rainbow Parrotfish was huge.

4.0 MB One of the neatest looking fish, Juvenile Drums tend to pace around the same area constantly.
Horseshoe

7.5 MB Divers have to have some patience to see some of the most interesting things. This is a Conch, first taking the time to slowly peek out from his shell, and then lurch forward a little.

5.0 MB It is quite unusual to see a lobster out like this - usually they are hiding under a rock. This guy looks like he has been caught out by something a couple of times, with his antennae damaged as they are. John pops in a little to one side, letting the Lobster know that if it were Lobster season, John would be all over that.

7.3 MB Balloonfish have a lot of trouble moving around even when they aren't puffed up. Here's one swimming his heart out only to take a break and rest on the reef ...

3.1 MB A quick little video of a Green Moray; you can get the idea of just how big (though not really all that long - around 4-5 feet) they get.

5.8 MB A couple of Blenny feeding. I had not seen this before, so I spent some time trying to get video of this, but not get too close - they spook easily.
Spiegel Grove

4.9 MB A Green Moray in residence on the wreck. Midway through the video (which, due to the red filter and the color loss deep water causes, is a bit green), I take the red filter off. Sometimes it's hard to decide which view is better - varying shades of green or varying shades of gray.
Pictures!
Conch Wall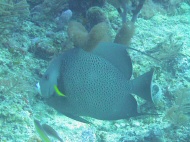 This is a Gray Angelfish.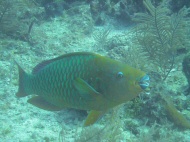 Rainbow Parrotfish are very large and quite colorful.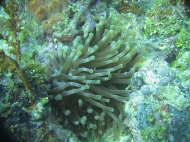 Not too many Giant Anemonies out there it seems, but I found this one. It does not appear to have any resident shrimp though.
Horseshoe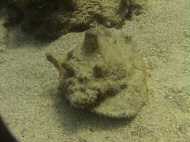 This is a Conch shell, with a Conch inside.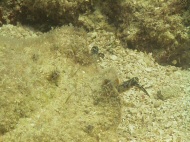 Here he is peeking out from under his shell.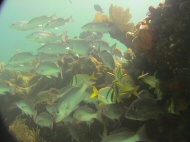 There were a lot of fish clustered about on this reef.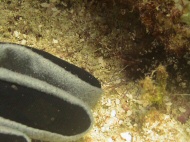 The Corkscrew Anemonie here had two resident Pedersen Cleaners. I took off my glove in an attempt to get them to clean me, when this Red Snapping Shrimp came out! I wanted to see if I could get a decent shot of him, so I tempted him out with my glove (no, my hand was not in it at the time).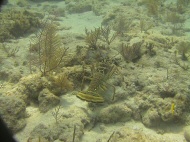 This Lobster was out and about and did not seem too happy about it.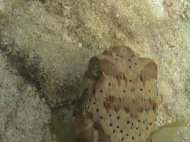 Balloon fish were not uncommon.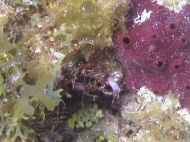 These appear to be two tiny Nudibranchs.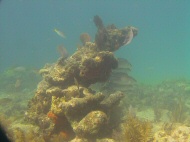 The reef was fairly shallow and the fish tended to hide in the shadows of coral formations.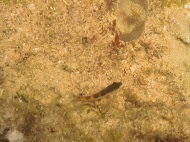 This is possibly a Goldline Blenny.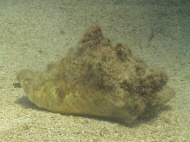 Another conch, looking around ...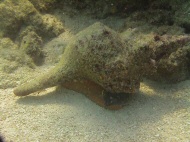 Not sure if this is a conch or what, but it was different from any of the other conch we saw. While conch are snails, there are some "snails" that aren't considered conch.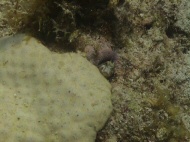 This guy was quite cute and didn't seem too horribly shy.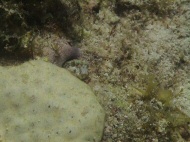 I like how I caught the reflection in his eye in this shot.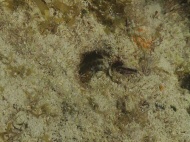 Here's an idea of what the rest of the body of a blenny usually looks like.
Spiegel Grove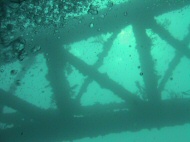 A little narced, kicking hard to follow Chuck and John, who were intent on seeing the entire wreck, I stopped to try to get the sun shining through the water, and through one of the structures on the ship.



Dive data for dives on this day:


| Dive | Site Name | Max Depth | Minutes | Water Temp |
| --- | --- | --- | --- | --- |
| 338 | Conch Wall | 92 feet | 58 min. | 82 F |
| 339 | Horseshoe | 27 feet | 63 min. | 82 F |
| 340 | Spiegel Grove | 114 feet | 46 min. | 82 F |
| 341 | Frenchie's Reef | 33 feet | 50 min. | 82 F |