Four dives planned, but we only got one in - a major storm came in.
Diving in the Florida Keys:
Directions from Tampa: Best bet is to take the Florida Turnpike south until it ends. Then you're pretty much at the Keys at that point ... keep driving until you hit Key Largo.
Conditions on the day of my visit: Cloudy - and then rainy.


Personal Notes: The storm was so bad that it was very rough going through it to get back to the dock (it was headed towards us anyway) and it lasted into the afternoon, causing CRD to cancel the afternoon dives.

The Duane is a 329-foot Coast Guard cutter that was decommissioned on August 1st, 1985. At that time, it was the oldest active U.S. military vessel. It was sunk on November 27, 1987; like the Grove, it is upright, in relatively good condition, but with a lot of growth and sealife on it, including two resident turtles. We saw one of them while I was there. We had very little current and it didn't take much to visit the entire wreck (no penetration, of course). I must say, considering that the conditions allowed the visit to be quiet leisurely, this was probably my favorite dive of the trip.
Videos!
My Codecs Page so you can get what you need to see these.
Duane

18.2 MB A long video of a turtle that lives on the Duane. She (I think) does not seem to mind the divers all that much as she goes about looking for a snack.

9.4 MB A Lobster walking along the deck (and then the wall) of the Duane. In much better shape than the last Lobster we saw out from under cover, this guy too catches John's attention ...
Pictures!
Duane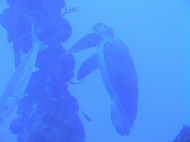 One of the resident turtles (we never did see the other one). She didn't seem to mind that we were there watching her eat.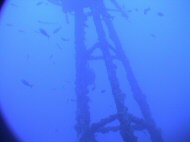 Here's a shot from a distance.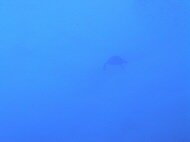 And then she left the wreck for a bit.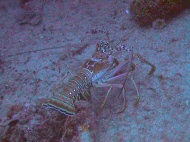 A color corrected photo of a lobster on the Duane.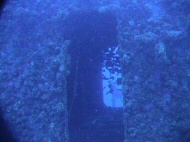 There are always a lot of fish hiding in the wreck.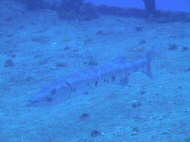 They are probably hiding from the barracuda.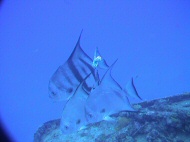 The only Atlantic Spadefish I recall seeing the entire trip.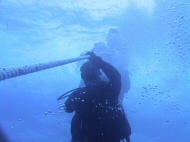 Here we are ascending the line, doing a couple of saftey stops along the way. The sky looks clear, but it turns out we were in for quite the storm.



Dive data for dives on this day:


| Dive | Site Name | Max Depth | Minutes | Water Temp |
| --- | --- | --- | --- | --- |
| 342 | Duane | 118 feet | 45 min. | 82 F |