A dive with Jim Abernathy's Scuba Adventures on the Infatuation. I was hoping for clear skies ... but it turned out that even they weren't needed that much. This was a trip with my sister and John.
Diving off of West Palm Beach:
Directions from Tampa: To get to WPB, I usually take I-75 to HW60, and then go south on I-95.
Conditions on the day of my visit: Overcast and rainy.


Personal Notes: During the previous week(s), Florida as a whole had been experiencing a good amount of rain. Most of the east coast would see rain more inland than out at sea. The thunderbolt that hit nearby as we were pulling away from shore let us know that though the lightning and thunder might clear up, we'd have rain pretty much the whole trip. Surprisingly, though, the water was incredibly calm ... you couldn't ask for better surface conditions. Almost flat as glass ... though the rain and water temp sucked.

The first site we visited was a set of ledges that got as deep as 90 feet. The first ledge is at about 75 feet. Right about 74 feet, we'd hit a thermocline. It was the first one I had truly experienced ... the water temperature, which had been a comfortable 84 F degrees or so, dropped to a frigid 73 F degrees. You could even see the water swirling where the temperature changed. It was the weirdest thing. I wish I had known about it ... I was wearing just a shorty, and that was damn cold in 73 degrees. At the safety stop, it was boiling; after having spent a bit of time at 73 and starting to get used to it, we'd hit 82 F degrees, and it would feel like boiling. The current was ripping, and it was more of a tidal surge, since the currents and reefs usually run parallel to shore ... and the steady current we were experiencing was perpendicular to the reef.

The second dive, which started at the "Cross-Current Barge," wasn't so bad, mainly since our max depth was at 60 feet. Even there, though, we felt the deeper water swirling warm and then cold. Originally we were worried about how visibility was going to turn out, since the we were near the inlet and the water had this icky brown color to it, probably from the outflow due to the rain or tides. This coloration only existed at the top foot or two, and down below that, we had a good 70 foot visibility (in spite of this muddy water and the overcast skies). Andrew, the dive master for our group, let us swim around the large barge, filled in with rocks, and then led us north to an area that had a lot of pilings, parts of boats, and other assorted artificial reef stuff, which was called "Play Pen." The swim to "Play Pen," though long, was made easier by the current, though the current wasn't going directly north, so some attention to correcting the swim for the current was needed.

The overcast skies made it difficult to get good still photos unless I was close to the target with the lights on. There was enough ambient light that my lights made no difference unless I was fairly close. This may have been because of the default my camera has of wanting to use it's built in flash (and it switches to this default every time I switch the battery out); it may be adjusting itself so that it doesn't white everything out with the flash.

Video wasn't so bad, though, much like the first trip with the camera off of Jax Beach, some of it came out a little green depending on depth and if I had the filter on or off.
Videos!
My Codecs Page so you can get what you need to see these.

Getting better and better with the camera, I still have a lot to learn about lighting; particularly, when using the filter is too green, and risking taking it off is the better option. The view screen doesn't always provide one with an accurate representation of what one will see on a TV.
South Double Ledges

2.7 MB Right off the bat we spotted a turtle. He didn't get that close to me, and this video shows very accurately just what the lighting is like at about 70 feet with an overcast.

4.1 MB Here's a Spotted Moray sharing some space with a Banded Coral Shrimp. I didn't want to get too close to the moray, but I did manage to get close enough for the lights to light both of them up well enough to shoot.

925 kB This cute little Juvenile Drum was hanging out near the end of our available bottom time.

1.5 MB During the safety stop, I made an attempt at filming the rain as it fell into the surprisingly calm Atlantic Ocean. I also got a little bit of footage of it while we were waiting on the surface for the boat!
Cross Current Barge/Playpen

354 kB This was the biggest puffer I had ever seen; more accurately, this is an incredibly large Porcupinefish. We're talking easily over a foot long, probably close to 15-18 inches.

1.5 MB I'd say we saw at least three turtles on this dive alone, though one was swimming away and I couldn't get any decent video of him. The first one we saw, though, I did manage to get some footage of. As you can see, this one is a little small (so small I had to edit out a small section of footage where John's head was completely in the way), and the turtle has a barnacle smack dab in the middle of his head.

717 kB I have no decent pictures of Scrawled Cowfish, but I did get some video ...

349 kB In fact, I managed to get video of a couple of Scrawled Cowfish apparently doing a mating dance.

757 kB And here's the other turtle we saw on this dive. This one hung out for a while; just when I thought it was going to swim away, it turned and swam around us a little.
Pictures!
With the overcast skies, it was difficult to get good photographs. Though the camera can still take decent video in less than perfect light, stills tend to require a little bit more light. So either I get not so good pictures, or I get really close with the lights.
South Double Ledges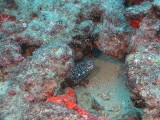 We spotted this Spotted Moray peeking out from under some coral.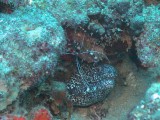 I got a little closer to him and noticed an antenna sticking out from behind some coral, and found that the Spotted Moray had a Banded Coral Shrimp buddy!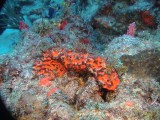 Even in the overcast light that was filtering down, you can see just how orange this coral is.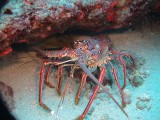 I didn't notice the other lobster and eel keeping this Spiny Lobster company when I first took the photo.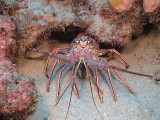 We saw several lobsters this dive trip, and they were all very big. Someone's going to be eating well after mini-season!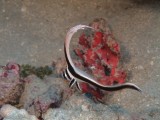 Near the end of the dive we spotted this Juvenile Drum. He didn't seem too stressed when we got close to him.
Cross Current Barge/Playpen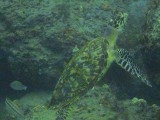 We saw at least three turtles during this dive trip. Here's one that's a little color corrected.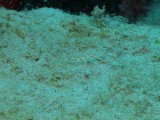 Here's a white Blenny on a white background. Give it a second and you'll spot him.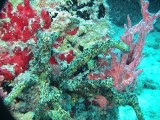 Here's a collection of colorful coral. The green didn't come out as much as I wanted ... it was very bright green!



Dive data for dives on this day:


| Dive | Site Name | Max Depth | Minutes | Water Temp |
| --- | --- | --- | --- | --- |
| 128 | South Double Ledges | 87 feet | 34 min. | 82 F |
| 129 | Cross Current Barge/Playpen | 60 feet | 48 min. | 82 F |