Wanted to get a little more diving in at Weeki Wachee before they cancelled Neptune Divers' contract.
Diving in the land of the Mermaids:
Directions from Tampa: Weeki Wachee is just south of the intersection of State Road 19 and State Road 50. Weeki Wachee is technically it's own city, but I've seen it referred to as part of Brooksville, as well as part of Spring Hill.
Conditions on the day of my visit: Sunny, with some clouds ... it was very hot in the early morning until the breeze kicked up.


Personal Notes: Again, this is more of a picture and video page than anything else, though I feel it necessary to mention that Weeki Wachee will be managing the diving operations themselves after August 31st. Make of this what you will.

I did find a piece of glass while photographing the penny. I decided to bring it out as it could conceivably cut someone.
Videos!
My Codecs Page so you can get what you need to see these.
Weeki Wachee

4.6 MB Only one worth mentioning, and that's this video of a cormorant diving for food. Freaked me out for a few minutes.
Pictures!
I know it doesn't look impressive, but the shot of the penny was really hard to get, considering where I was in the spring.
Weeki Wachee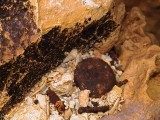 An old rusted penny. I left it there. This really is to me an interesting shot as far as photography practice is concerned, as it is a small object, and sometimes zooming in too close could cause things to go out of focus ... so it's a good idea to get an idea of how distance and zoom can interact. Not an easy shot though, as this is smack dab in the middle of the first swimthrough.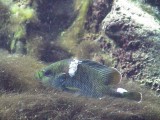 I think I was trying to figure out what was up with the white stuff on him.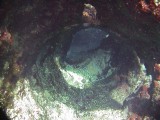 In the main headspring, where the water comes up, there are many interesting rock formations; tubes like this one can be found here and there around the spring, but none are quite as large as this one.



Dive data for dives on this day:


| Dive | Site Name | Max Depth | Minutes | Water Temp |
| --- | --- | --- | --- | --- |
| 130 | Weeki Wachee | 49 feet | 50 min. | 73 F |
| 131 | Weeki Wachee | 41 feet | 37 min. | 73 F |