Gulf Stream Ledges

2.9 MB Here's some good video of a very large Blue Tang.

3.2 MB Spanish Grunt are very colorful fish.

2.5 MB This Honeycomb Cowfish didn't want to stand still for too long.

3.3 MB This looks like a mated pair of Banded Butterfly Fish. There were only two and they always stayed near each other ...

1.2 MB This short video of the Lobster pictured below is valuable because there's a hand in the shot and you get a good size comparison.

3.1 MB Spotted Goatfish have really neat ways of hunting for food, and it's always cool to watch. They have a couple of feelers under their chin that they use to dig through the sand.

1.4 MB I always think Sharpnose Puffers look cute.

2.9 MB Here's one of the many eels we spotted. Speaking of spotted, this is a Spotted Eel.
Briney

1.3 MB Just something about Lizardfish that I like. Maybe it's that aggressive posture, and the fact that when disturbed, they may not attack you, but they also don't necessarily swim away from you, either.

3.7 MB This eel should have been very easy to identify, but I could not find him in my book. (ID: Goldentailed Moray Eel - Thanks Marriard!)

1.9 MB I captured this footage of a here it is anyway.

3.0 MB This footage of some fish going after some food is pretty cool.

3.7 MB This footage of a Spotted Goatfish hunting for food is cool ... it shows the goatfish equivalent of "raiding the refrigerator". Unfortunately, it looks like he didn't find anything.

3.4 MB I really like the colors of this Whitespotted Filefish.

2.9 MB And some footage of my favorite of the "ugly" fish, a Scorpion Fish.
Gulf Stream Ledges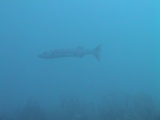 First thing we see as we decend is this very large but very shy Barracuda.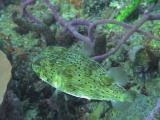 The Balloonfish here were quite large.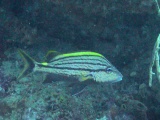 I have never seen this coloration in (what I'm guessing is) a snapper before (ID: Spanish Grunt).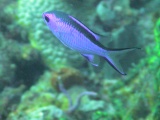 I was amazed to get such a good shot of a Blue Chromis.
Fish aren't always cooperative when you're attempting to take photos of them ... it can take several shots to get one as good as this, particularly with Honeycomb Cowfish.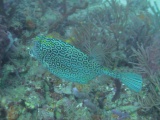 I managed to get two fairly good shots of this Honeycomb Cowfish.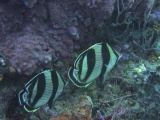 When I don't bring lights you can almost garantee that there will be over cast, and fish that hide in the shadows of coral formations are even harder to get good shots of.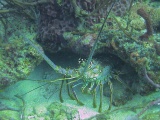 This Lobster was quite bold; considering his size, he probably would have been snatched up by a hunter during lobster season.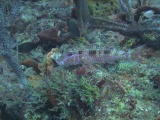 I haven't had time to pour over my fish ID book to figure out what this is. Great coloration though. (ID: Spotted Goatfish, Inactive Phase - Thanks Marriard!)
Briney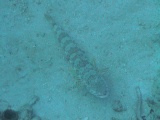 Lizardfish tend to be a bit aggressive if you get too close.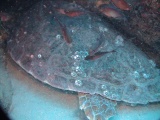 This turtle probably didn't know we were there ... either that, or she thinks that since she can't see us, we can't see her. We didn't disturb her beyond snapping a few pictures.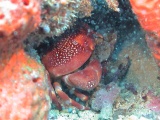 This is not touched up; I managed to bring my lights on the second dive and got this guy lit up enough to take a good shot of him.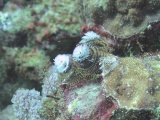 One of the best shots of a Christmastree Worm.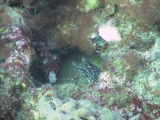 This is zoomed in quite a bit. He was very small ... probably a baby. I'd say the size of his head at this angle was probably no more than an inch.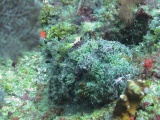 A Scorpionfish hidden in plain sight. My sister saw this one ... I'm getting better at being able to spot them when she points them out.