Duncan's Wreck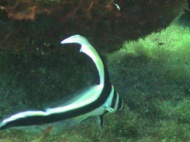 This little Juvenile Drum had staked out his spot on the boat.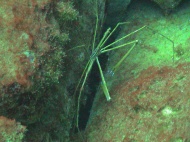 Arrow Crabs are a common sight on most dive sites that we went to.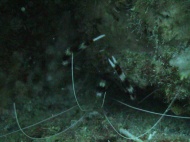 Banded Coral Shrimp like this guy weren't as common as the Arrow Crabs, but I saw a few.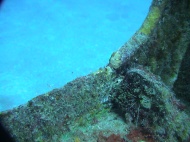 Here's an Arrow Crab that was on the main deck of the wreck.
Questor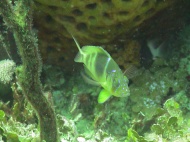 This Barred Hamlet was just one of many - but one of the few that stood still long enough for a shot.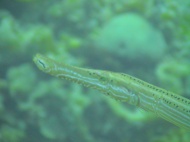 Here's a closeup of the head of a Trumpet Fish.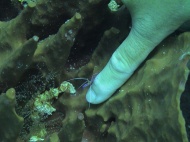 My sister getting a manicure by a Peterson Cleaner Shrimp. I got one too - first time for me. It was funny to feel his little tiny claws tug occasionally at bits of skin.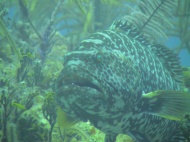 This Grouper was probably getting cleaned but I didn't see many cleaner fish near him.