A British visitor during this trip noted:

"I picked a bad time to come here. Everyone is celebrating getting away from my country."

July 4th is celebrated as Independence Day in the United States of America. July 10th is celebrated as Independence Day in the Bahamas Islands.

This was trip number three for me to Grand Bahama, diving with Grand Bahama Scuba. My sister works with them at this time, so for me this became a working vacation. For many of the dives, I was the last one in the water, between helping others get their gear on, and the fact that I had to get my gear on myself.

I enjoyed it.

This trip also saw the purchase of a new piece of equipment; one that I a lot of people I've dove with have (in one form or another) but that also has a reputation for being a little less than what's desired: A Citizen Hyper-Aqualand dive watch. This provides you a bit of a backup since it will keep track of time down and depth. The problems I have with the watch are:
The light system on the watch is not Indeglo - so it's pretty much useless.
The ascent alarm is "Hyper" sensitive, seeming set to somewhere around 15 feet/minute max (most dive agencies advising a 33 feet/minute max). The act of moving your arm up can cause it to go off. This is why many folks (either through a service agency or some other way) have all alarms on the watch disabled.
Consider this an open letter to Citizen: Guys, you could easily fix these features and make a great watch, I think; at the very least, allow for the disabling of the alarm without opening up the watch.

So since I have friends and family on the island now, I stayed with them, so I can't offer any advice there.

Flying Notes

I flew out of West Palm Beach - the FastCat wasn't running at the time, and I didn't mind the drive, because I like driving more than flying. However, my flight returning to WPB was delayed 3.5 hours. This sucked, as I flew out on the 10th at around 5pm (originally), which became 8:30pm. With the stop I had to make in Boynton, I didn't get home until around 1am. Again, I didn't bring a jacket, and with the air-conditioning in the Freeport terminal, I could have used one.


On To The Dives
Pictures!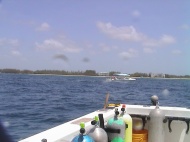 Well, this was probably the only bad thing about the trip; here's a fishing boat, with lines out, much closer than the 300 feet he's supposed to be beyond.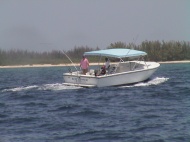 And here we are zoomed in, close enough to probably get an ID on the people on the boat - but to definitely get the name of the boat, Reef Runner.