This was not the trip I had originally expected to take for this New Years.

What happened to the D2D Trip?

It was scheduled to occur over roughly the same time period in Papau New Guinea. However, it got canceled in early December and I had to scramble to salvage my vacation. The good news is that I have friends in Australia and should have probably scheduled a day or two to visit with them, anyway.

Itinerary

The trip started, leaving Tampa on Christmas Day. I got a flight on Delta to LAX, and then LAX to Brisbane - a wonderful 13+ hour flight. The good news is that there was an entertainment system and I managed to see three movies I hadn't seen yet. The bad news is I didn't get any sleep.

When you fly like this you cross the International Date Line and also spend a lot of time in the air. Basically, I left the evening of the 25th in Tampa, and landed the morning of the 27th in Brisbane. The 27th was mostly a wash; was asleep by 4pm and slept until roughly 3:30am.

Visited Australia Zoo on the 28th. Notes on that below.

Flew to Townsville on the 29th to board the ProDive boat Sea-Esta with my buddy, Paul.

Got back on the 1st and drove with Paul to Cairns to board the Taka boat.

Got back on the 5th; stayed the night in Cairns, and on the 6th, flew to Sydney to hang out with Paul and his wife Mae until the 10th. Thanks to the IDL, I left around noon on the 10th to land early evening in Tampa on the 10th (the SYD to LAX flight landing earlier than it left).

Money

As with most money changing, I'd guess, you loose out on the deal - or at least it would seem so. I need to figure out a better way to exchange money than to hit the money changers at the airports. When I checked the exchange rates on line, it was around $1.26 AU for every $1.00 US. Keep that in mind when you look at prices; everything will seem expensive (especially hotel meals, which actually will be "hotel expensive" as well as monetarily inflated). A Coke from a machine in Australia Zoo ran $3.20 AU. In the US at the university, it's a buck (US). Elsewhere it's probably close to $1.50 US, maybe $2, depending. Just keep that all in mind.

Notes on Australian Colloquialisms

Just when you think you're ready for them to throw some odd word combinations at you, or you think you might be able to figure out what they're talking about from the context, one or two things jump out and grab you.

First off, "Lemonade" is basically Sprite. Or Schweppes Lemonade. I should have figured this out on the Qantas flight on the way into Brisbane when I got Schweppes Lemonade when I asked for lemonade, but it didn't really click until I asked for lemonade at lunch and I saw bubbles.

The Entree is not the main dish (as we Americans think of it). It is actually the term they use for appetizers. The Main Dish is the main dish. Think about how the term entree developed - they use it more properly than we do. Keep this in mind as it will avoid issues with your wait staff, particularly if you want to order something that's listed as a "starter" for your main meal (I ran into this getting a grilled chicken salad that was on the "starter" menu as my main meal).

I came down for dinner to the Holiday Inn Brisbane and they asked me (speaking very quickly with that interesting Australian accent) if I had a "booking". Now, considering the context and the rapidity of the Matre'd's speech, I had no clue what he was saying until the waitress slowed it down. So, when you make a "reservation", don't be surprised if they use the term "booking" (which, for those Aussies that read this, is a term we usually reserve for getting flights or passage on a boat).

Getting Around Brisbane, particularly to the Zoo

Zoo entry is $46. The Zoo isn't in Brisbane, but is about 40 miles north. The Holiday Inn Brisbane is right next to the Roma Street Station; a public transport/train station. I think the Zoo has a bus that leaves from there around 9ish that runs $80 for the bus fare and Zoo; if you want to save some money, you can take public transport (a train to Caboolture and then a bus to the Zoo) and arrive right at opening, which is 9am (during the week anyway) for just over $16 round trip, saving you around $16. Check the bus schedule carefully; the last bus that stops at the Zoo stop to Caboolture stops at 3:10ish. In retrospect, the extra money might be worth it, particularly if you're with someone; time wise you'll probably get around the same amount of time in the Zoo either way. However, the public transport is fairly reliable, and you could probably even take a train or two from the Airport to Roma Street. Find out where your hotel is relative to a station.

Note that if you take the train, you might see what appears to be gang graffiti; from the little research I've done, the 'tagging' you'll see is actually more "rogue artist" related than gang related. CityTrain is looking into ways to discourage or prevent the tagging, as you'll see it almost constantly all the way between Roma Street and Caboolture (and if you go elsewhere, probably there too).

Now, while bus rides will require a ticket (or money - the driver will check or charge), I'm almost wondering if it's more the honor system for the trains - I'm not sure how they keep track there. It looked to me like you could in most cases just walk onto the platforms and get on whatever train.

Australia Zoo

Worth a visit. Bring AU cash with you as the food areas only accept that (not credit). They're still expanding; there are one or two layout issues that I'm sure they'll resolve eventually (the elephants and tigers are basically at a dead end, instead of a loop - basic park layout would seem to dictate that you don't have your guests retracing their steps if you can avoid it).

I had a good time, but I was alone and it would have been more fun with someone.

Diving Notes

Diving was with two different scuba liveaboards, ProDive and Taka. My arrival and setup on the Sea-Esta resulted in my discovery of my forgetting my dive computer (which has a quick disconnect from the hose so I can take it to my PC and download my dive data).

ProDive's Sea-Esta out of Townsville

This is the only liveaboard out of Townsville at this time that does the Yongala; however, day trips to the Yongala are available. This liveaboard is not for the faint of heart. Food is edible, but the boat was not very stable, and there was much sea-sickness among the guests (and some of the crew). It's an old boat, but the diving made the 3 day trip worth it; especially the two dives on the Yongala. Some warnings though:

24 people on board (20 guests, 4 crew, IIRC). 2 bathrooms for everyone.

Diving from the Sea-Esta is significantly more regimented than I'm used to ("Where's your buddy? Dive deck is open. Sign back in. Dive deck is closed."). This was made less desirable by the absence of Nitrox on board. On the other hand, this made getting to sleep easier (as if it needed to be easier after diving four dives a day). Thing is, we were limited to four dives a day, and both Paul and I could have managed five if we had been allowed to set our own schedule.

The Taka out of Cairns.

An upgrade all across the board. Nitrox was available. However, diving was slightly more regimented on the Taka than the Sea-Esta: same four dives a day, same signing in, but we were told to be back on board after 50 minutes of dive time, and they were quite adamant about the "No Reverse Profiles" thing - it's apparently Queensland law. Paul and I pushed the time limit quite a bit. Food wise, the food was excellent, and they had actual Coke on board (as opposed to Sea-Esta, which had only Diet Coke). Lots of room for luggage, even if all four members of a four-share room are photographers. Some cabins on the Taka had dedicated bathrooms, but in case yours didn't (or even if it did and you were ready to dry off), there were five shower/toilet combos right off the dive deck. You could do a 30 second rinse, switch into dry clothing, and head into the parlor to eat, rest, and wait for the next dive.

Paul said the diving was better on the Sea-Esta, but, aside from the Yongala, it was more memorable to me on the Taka.


On To The Dives
Pictures!
These are the "above water"/"land" pictures only. The underwater ones are found on the individual dive day reports above.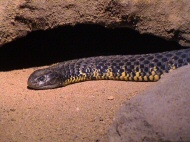 I didn't have map when I first got into the zoo, so the first thing I came across was the snakes.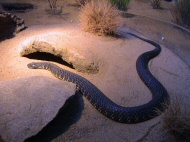 Mind you I don't know anything about which snakes are which, except that they were all poisonous.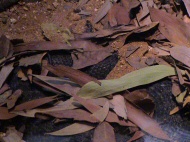 This guy is an ambush hunter.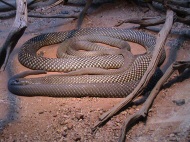 Not knowing anything about snakes you'd think this guy looks fairly bland.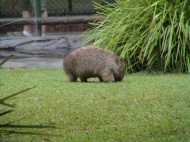 The wombat enclosure was right near the snake house.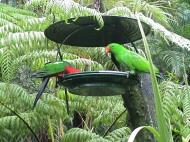 I found the aviary right at feeding time. There's an Eclectus Parrot munching away at some food with a buddy.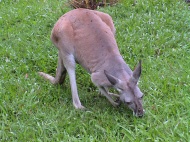 There were two kangaroo areas where you could feed and pet the kangaroos.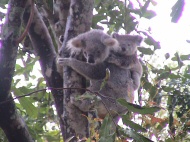 There was a koala enclosure where they would hang signs on the trees that say "There's a Koala in this tree. Can you see it?" Here's a couple I saw.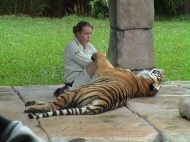 I must admit that when I first saw this, I was jealous. First of the keeper, then the tiger.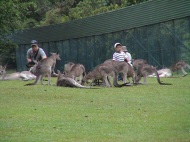 More roos.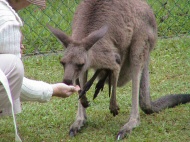 There's a joey hanging out of that pouch.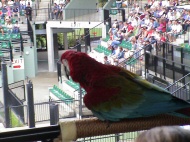 At the Crocoseum the did an animal show. This Macaw landed on the bar right in front of me. It's not like he posed for long though, which is why the picture is out of focus.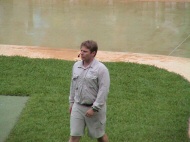 Wes Mannion, Zoo Director, did the croc feeding.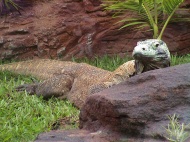 Here's one of the Komodo Dragons.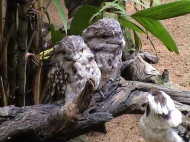 These birds are injured and won't be released back into the wild. Usually they end up here after getting hit by cars.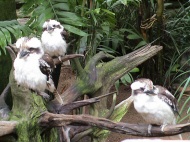 Some more injured birds.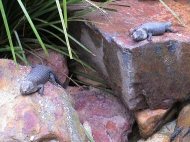 Some skinks.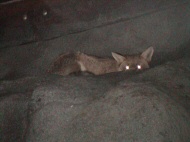 Feral foxes are a big problem in Australia, and the enclosure for them is very much enclosed.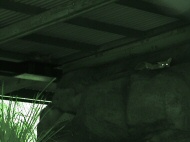 Here's a night-vision shot of the enclosure. There are two foxes in the picture ... can you find the other one? Hint: it's eating.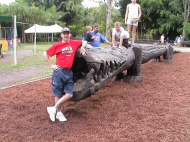 This is me next to Cootha, the crocodile that Steve Irwin cut himself.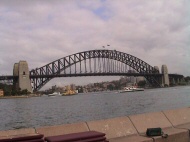 This is the Sydney Bay Bridge. Don't ask me why I don't have a picture of the Opera House (I thought I took one).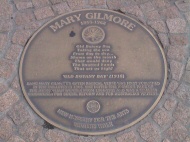 Mary Gilmore's plaque on the Author's Walk around the bay.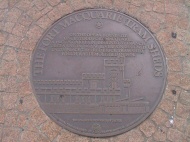 Okay - so the Author's Walk contains information about things other than authors.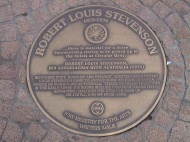 But here's Robert Lewis Stevenson's plaque.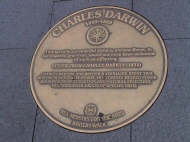 And the man, Charles Darwin.