My sister and I went through many variations of what the weekend was going to be like. We finally decided to do a couple of dives of Boynton, and then Sunday we'd visit the D2Ders that were still in Pompano.
Diving in the Atlantic Ocean:
Directions from Tampa: I usually head down HW60 to Yeehaw Junction, then take the Turnpike south. I get off of the Turnpike at Lake Worth Road.
Conditions on the day of my visit: Mostly sunny.


Personal Notes: More and more I have less and less to say here. My memory tends to fade quickly, too.

We went out on the "Deeper" with Captain Leo and Divemaster Jason. The currents in Boynton tend to be easy (if there is one at all) and the water that day was fairly calm. It really did not get rough until we were on our way back to the dock. The reefs are always teeming with life and usually no deeper than 70 feet (on the inside). On the second dive, I decided not to dive with the camera and just enjoy the dive (which is not to say I don't enjoy dives with the camera, but cameras usually result in loitering, which can skew the enjoyment factor for a buddy team). Wouldn't you know it, though, first thing we see as we got down to the reef was a probably eight to ten foot white nurse shark, sleeping under a ledge.

The second dive was also fun because there was a false reef paralleling the real one, and we moved over to it for a while.
Videos!
My Codecs Page so you can get what you need to see these.

These videos are probably a little bigger than others I have produced. Though they still use the DivX decoder, I messed up some of the settings and I haven't found the "sweet spot" yet.
Finks

4.2 MB This is the coolest footage of a Scorpionfish that I've ever taken ... because I caught him eating a tiny fish.

1.4 MB There were a lot of Trunkfish on our dive. Here's one.

1.8 MB This Trunkfish was quite small.

3.1 MB Here's a neat sequence of a Cowfish with some fan coral.

1.3 MB Here are a couple of cool clips of some Filefish that we came across.
Pictures!
As noted above, all pictures are from the drift over "Finks" reef.
Finks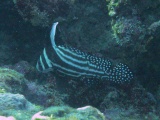 An Adult Drum we came upon hiding under a ledge.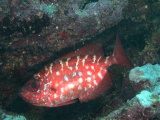 This red guy is probably distantly related to the Squirrel Fish, but I don't know yet what he is.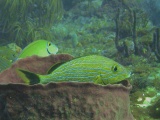 I think this Snapper was sleeping. If he's trying to hide, he's not doing too well at it.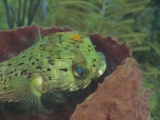 Here's a Balloon Fish hanging out in some bowl coral.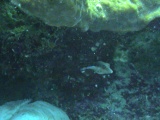 This blurry Sharpnosed Puffer is important as a size comparison to the next image. He's probably only about an inch or so long.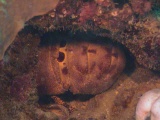 This Lobster tail probably would have fed a starving family of four quite well. There is no zoom change between the tiny Sharpnosed Puffer above and this picture of a large Lobster's tail. He was huge!



Dive data for dives on this day:


| Dive | Site Name | Max Depth | Minutes | Water Temp |
| --- | --- | --- | --- | --- |
| 141 | Finks | 68 feet | 60 min. | 72 F |
| 142 | San Remo | 65 feet | 41 min. | 72 F |