Gulf Stream Ledges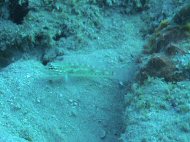 These Goby are common - not sure exactly what kind of Goby this is, but they usually sit out near a pile of coral rocks that they can dart into when frightened.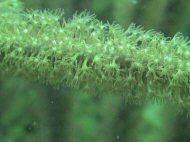 Here's a closeup of some soft coral. My wide angle shot of this was blurry.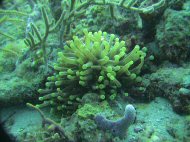 Giant Anemonies are rare off of Boynton, but we spotted this one.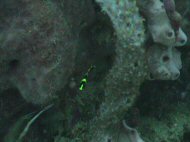 I spotted this Juvenile French Angelfish cleaning a Parrot Fish. He was very small (about an inch across) and wouldn't sit still.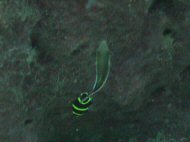 The Juvenile French Angelfish also had a Puffer neighbor that was apparently a bit protective!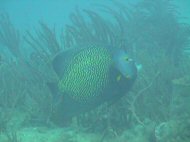 Here's what the little guy looks like when he grows up, easily growing over a foot long.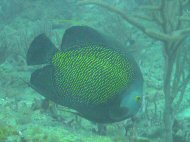 Here's a slightly better shot.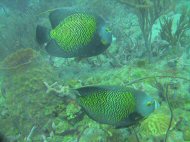 I often see French Angelfish in pairs.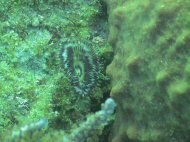 This I think is a Brown Fan Worm.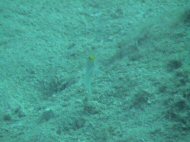 Yellow Headed Jawfish are very rare off Boynton.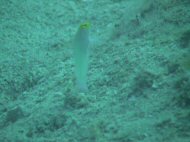 They are also very hard to point out to fellow divers because Jawfish tend to back into their holes if divers get too close.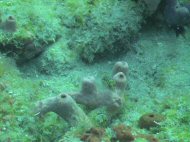 This is a kind of Blenny perched on some coral.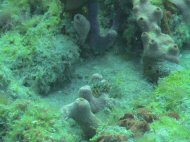 I really couldn't get a good side shot of him without spooking him. This was the best I could do.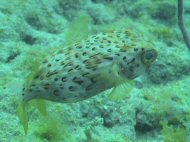 Balloonfish. If you ever see these guys puffed up with their spines sticking out, they're scared. I would hope it wasn't because a diver scared them!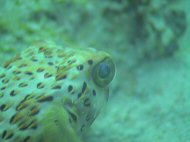 If I recall correctly, they have algae that grow in their eyes.