Where are the Caymans?
The Cayman Islands are in the western Caribbean, south of Cuba. The direct flight I got from Tampa to Grand Cayman through Cayman Airways was less than two hours long.

There are three islands: Grand Cayman, Cayman Brac, and Little Cayman. When the weather is good, the Cayman Aggressor IV can make the crossing from Grand Cayman to Little Cayman in around nine hours. It takes a little more than an hour, though, to go from Little Cayman to Cayman Brac. There are some significant wreck dives (indeed, the only dive on Cayman Brac that we did was a wreck dive). The ability to make the Grand Cayman/Little Cayman crossing is very weather dependent ... I may have been on better boats, but I've never had an experience with a better crew. Service was excellent - almost to the point it was scary. Everyone commented that, once a pairing was out of their cabin, it was a fair bet that the crew had made it in to make the beds and replace the towels. And if one of you used the towel during the day, it was more than likely that the towel would again be replaced by the next time you made it back to your cabin. Food was excellent, and the service during meal times was above and beyond.

The only bad parts of the trip (as far as the boat was concerned):
The soda fountain wasn't working properly.
We ran out of canned Coke.
The showers in the cabins were a tad claustrophobic. However, this isn't always that unusual on a boat.
Getting There
I managed to get a fairly good fare on Cayman Airways, and a direct flight from Tampa to Georgetown on Grand Cayman, where the boat docks. A blissfully short flight, all things considered.
Other Notes
The crew was anxious to get underway to ensure that we had significant time to make it to Little Cayman and Cayman Brac, as weather forecasts indicated the potential for rough weather midway through the week. We made it ...

We were scheduled to do 27 dives originally, and I was hoping to fit at least 26 in so I could hit my 400th dive. However, crossings and some less than healthy sinuses knocked my number of dives down to 20.

Pasquale, my buddy who usually arranges these trips, was sadly absent, having given up his spot to another. My friends I met in Palau, Bill and Pam, didn't make it, as Bill has passed. Another person had surgery before the trip and couldn't make it either, so we were three short on the boat.


On To The Dives
Pictures!
All taken with the Canon 30D. Always a bit paranoid about opening the housing (particularly since it's like a big 3D jigsaw puzzle) I kept it all assembled as much as possible, so I don't have many surface shots during the actual trip; only when we were really done diving did I start snapping shots around the boat.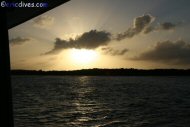 Sunrise over Little Cayman, first day of diving. Sunrise tended to be easier to capture than sunset, as you usually prepped the camera for a given day the morning of the dives. Unless you were going to change lenses, you usually didn't want to muck with the camera too much.

1/250-F18-ISO100 lens: 18-55mm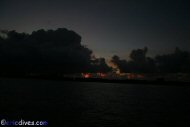 Sunrise the second day, over Cayman Brac.

1/100-F3.5-ISO100 lens: 18-55mm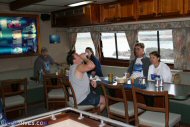 Back at the dock on Friday, but very few of us wanted to go outside and see the land so close. Here's Chris, Tom, Kelly, Tim, and Kriss chatting it up in the lounge.

1/125-F4.0-ISO200 lens: 18-55mm, built-in flash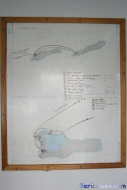 The map of our travels and dive sites.

1/100-F4.0-ISO200 lens: 18-55mm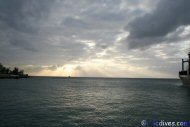 The sun slowly approaches the horizon, hiding behind some clouds ...

1/320-F7.1-ISO200 lens: 18-55mm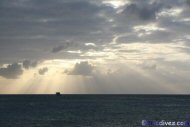 Little bit of zoom on the sunbeams ...

1/320-F10-ISO200 lens: 18-55mm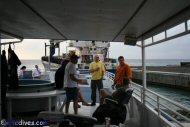 With Beverly and Braxton in the background, Larry, Chris (behind Larry), Robby (behind Chris), Dale, Tom, and Todd (in front of Tom) discuss ... well, everything: Football, the captainship of the freighter, dinner, diving, Larry's feet ...

1/200-F4.0-ISO160 lens: 18-55mm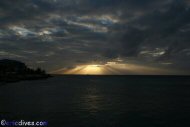 The sun sinks ever lower ...

1/200-F9.0-ISO100 lens: 18-55mm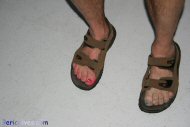 Larry's feet. Hmmm ... wonder how they got those interesting colors on them ... not to mention the dive flag on his toe ...

1/125-F5.6-ISO100 lens: 18-55mm, built-in flash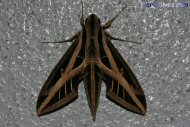 This very large moth joined the party we had on the top deck prior to going to dinner.

1/125-F10-ISO200 lens: 100mm macro, built-in flash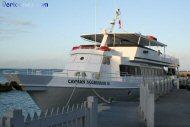 Saying goodbye to the Cayman Aggressor IV.

1/160-F10-ISO200 lens: 18-55mm