Tedran Wall (Saba)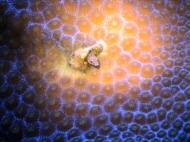 This blenny was in a fairly dark spot and I wanted to get his natural coloring, so I took the red filter off and used my flashlight.
Dave's Drop Off (Saba)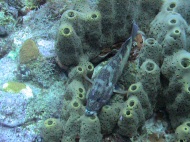 I am surprised I could not identify this fish. It should have been easy to find in the ID book but oh well.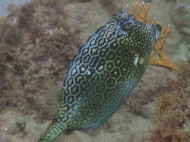 This is a Honey Comb Cowfish. They are usually not too skittish until you start looking at them and aim a camera their directly.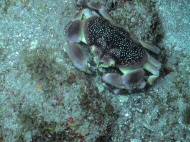 This crab was out and about but darted into a hole before I could call anyone else over and show them.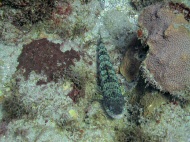 Sand Divers will usually allow you to get very close before they move from their spot.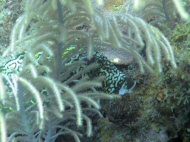 Cowfish can be shy when you are trying to photograph them.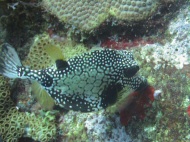 Smooth Trunkfish are usually too busy eating to pose for you.
Tent Reef (Saba)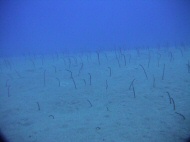 Here is a garden of Garden Eels.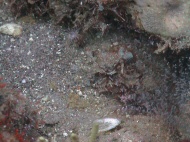 There are the antennae of a Snapping Shrimp poking out of this corkscrew anemonie. When they snap, if I recall correctly, they shoot a jet of water at high speed. Supposedly getting hit by it at close range stings. So I never did get one out far enough to get a photograph of one.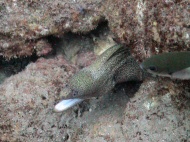 Eels were spotted on most dives. This is a Goldentail, with a Brown Chromis wondering what I am photographing.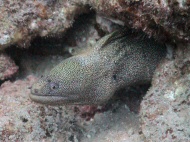 Here he is looking a little calmer and without the nosy neighbors.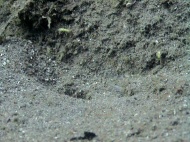 Near as I can guess, this is a female Blue Throated Pike Blenny. However, she was very shy and did not have the distinctive coloration of the male of the species.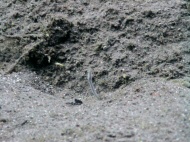 Here she is out a little farther, but at a bad angle.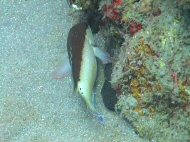 A couple of Bicolor Coneys on the rock that the mooring is on would not leave this poor little eel alone. According to someone on the boat, they were interested in stealing anything he ate.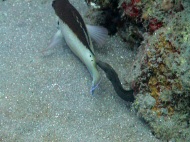 But it was odd behavior, almost like bullying. They would not let him out too far to get away, but then they would not attack him either.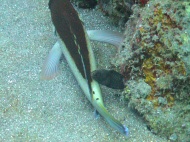 I think he should have just bit them on the ass.