December 26, 2004 - December 27, 2004 - December 28, 2004 - December 29, 2004 - December 30, 2004 - December 31, 2004 - January 3, 2005 - January 4, 2005 - January 5, 2005 - January 6, 2005 - January 7, 2005

January 2, 2005: Caribbean Explorer II
"Coconut Reef (St. Kitts)" - "Corinthian Reef (St. Kitts)"


Feeling a lot better after a day of just relaxing in St. Kitts.
Diving aboard the CEXII:
Directions from Tampa: Talk to Ultimate Dive Travel at http://www.ultimatedivetravel.com/
Conditions on the day of my visit: Sunny


Personal Notes: I am writing a book, so having free time wasn't a big deal as far as not diving in the latter days of the previous week were concerned - I had something to keep myself occupied. But as the week was coming to a close and I found it harder and harder to justify the potential damage to my sinuses that diving might do, I became acutely aware of just how close to dive #300 I was getting - so I made it a goal to make it there. I wasn't going to rush to it, but I wasn't going to let this trip end without hitting that milestone.

Corinthian Reef was a new site for this trip. Made up of a collection of wrecks (only one of which is a boat) as well as a ledge running along the edge of the site, I saw one of the neatest things - in a hand rail on the tugboat, where a hole had rusted through, a little eye was looking out of that hole at me - a tiny octopus had made it his home, at least for the time being.

In spite of how cool a site Corinthian Reef turned out to be, I didn't want to push my sinuses too much, and wasn't quite back to 100% status - so I skipped the second dive there (and the night dive, if there was one).
Pictures!
The visibility on Corinthian wasn't all that great. This resulted in some interesting results when using some automagic color and contrast/brightness balancing. But they do look more like what you would see than what they did before they were processed.
Coconut Reef (St. Kitts)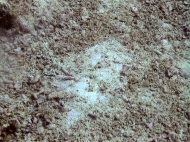 A Peacock Flounder buried in the sand.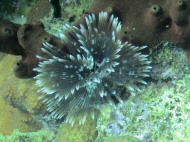 Magnificent Feather Duster.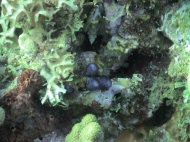 I am not sure what these are; I am guessing that they are tunicates of some kind (the blue things in the middle).
Corinthian Reef (St. Kitts)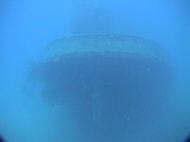 A shot of the bow of the tug.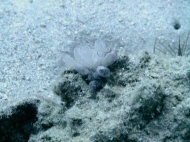 These definitely are tunicates.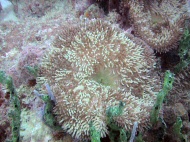 I think these are Carpet Anemonies.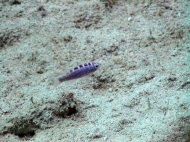 This is a Chalk Bass. They look like they are related to the Tobacco Fish.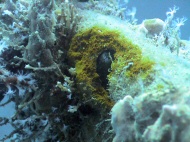 This is a shot of the rail of the tug; note the rusted out hole, and the slit of an eye looking out. I am pretty sure that is an octopus.



Dive data for dives on this day:


| Dive | Site Name | Max Depth | Minutes | Water Temp |
| --- | --- | --- | --- | --- |
| 294 | Coconut Reef (St. Kitts) | 102 feet | 52 min. | 77 F |
| 295 | Coconut Reef (St. Kitts) | 62 feet | 58 min. | 79 F |
| 296 | Corinthian Reef (St. Kitts) | 70 feet | 50 min. | 77 F |