December 26, 2004 - December 27, 2004 - December 28, 2004 - December 29, 2004 - December 31, 2004 - January 2, 2005 - January 3, 2005 - January 4, 2005 - January 5, 2005 - January 6, 2005 - January 7, 2005

December 30, 2004: Caribbean Explorer II
"Anchors Aweigh (St. Kitts)"


Whatever I had hit me full force, and I didn't want to push it too much ... so I only did one dive.
Diving aboard the CEXII:
Directions from Tampa: Talk to Ultimate Dive Travel at http://www.ultimatedivetravel.com/
Conditions on the day of my visit: Sunny but congested.


Personal Notes: Anchors Aweigh supposedly has something like 40 anchors scattered around it. During this first visit, I didn't notice even one (and there's a big one the boat moors to). It's a great site for things like Yellow Headed Jawfish, and we saw at least one turtle here, too.
Pictures!
Anchors Aweigh (St. Kitts)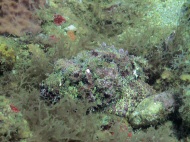 A Scorpion Fish.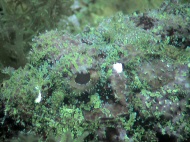 Here is a closer view of his head, particularly his eye.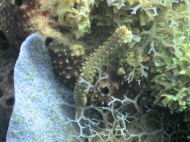 Ouch! Do not touch! Fireworm.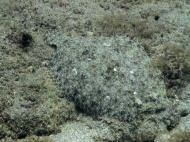 Peacock Flounder. After some color correction and contrast adjustments, he became easier to see.



Dive data for dives on this day:


| Dive | Site Name | Max Depth | Minutes | Water Temp |
| --- | --- | --- | --- | --- |
| 292 | Anchors Aweigh (St. Kitts) | 64 feet | 57 min. | 81 F |