We started our day on the pinnacle ...
Diving aboard the CEXII:
Directions from Tampa: Talk to Ultimate Dive Travel at http://www.ultimatedivetravel.com/
Conditions on the day of my visit: Mostly sunny.


Personal Notes: My second dive on Third Encounter of the trip saw me getting a little deeper than I was supposed to. Oops. I also saw some interesting grouper behavior that, while it initially appeared to be cleaning behavior, they were too far away from the reef and didn't appear to be being cleaned. I can only guess that it was territorial, as there were a couple of them floating around in the same basic position.

I definitely saw a Black Durgon laying flat on the reef getting cleaned. That was wierd, because for a moment he looked dead. Usually they're off the reef a little bit hovering over the spot where the cleaner fish are.

I did my last dive of the day (at Tent Reef) with Evan. As I was suiting up, he asked me what diving I had done that day - I said I had skipped the after lunch dive (seeing as how Jianna, one of the D2D gang, cooked some pasta for lunch and I had partaken more than my fair share, and ended up in a food coma for an hour or so). He said "Follow me."

We didn't quite get to where we wanted to go, as a couple of folks decided to follow us for a bit, and then realized just how deep we were - so they left us, but not until Evan modified his plan. No biggie though; it was still a great dive.

Again, a bit of a current cancelled anyone's desire for a night dive.
Videos!
My Codecs Page so you can get what you need to see these.
Third Encounter (Saba)

509 kB Here's a short clip of a Black Durgon being cleaned. It's a good shot of a fish being cleaned, and in this case, the durgon is actually laying on the reef while the goby darts over his side.
Pictures!
Third Encounter (Saba)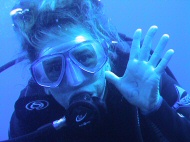 Jianna did her 50th dive on the Third Encounter - congratulations, Jianna!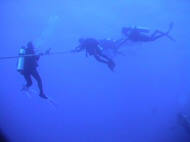 Divers on the mooring line during the ascent.



Dive data for dives on this day:


| Dive | Site Name | Max Depth | Minutes | Water Temp |
| --- | --- | --- | --- | --- |
| 306 | Third Encounter (Saba) | 112 feet | 40 min. | 79 F |
| 307 | Tent Wall (Saba) | 100 feet | 51 min. | 79 F |
| 308 | Tent Reef (Saba) | 106 feet | 43 min. | 79 F |