We had wanted to hit Diamond Rock but it turns out the currents and winds were against us.
Diving aboard the CEXII:
Directions from Tampa: Talk to Ultimate Dive Travel at http://www.ultimatedivetravel.com/
Conditions on the day of my visit: Cloudy earlier in the morning.


Personal Notes: So we ended up hitting Tedran Wall, Tent Wall, and Tent Reef again. Conditions were such (near as I remember) that no one really wanted to do a night dive, so it was cancelled (there was a bit of a current on Tent Reef, where we were moored).
Videos!
My Codecs Page so you can get what you need to see these.
Tent Wall (Saba)

1.0 MB This is video of a Red Hind being cleaned by some kind of goby. Highlights of this clip include the hind opening both his gill and his mouth to allow the goby to clean inside.

1.7 MB I'm guessing he's feeding. I caught him bouncing up and down off of the reef. He was very shy - this is zoomed in quite a bit in order to get any kind of idea of what the fish is and what he's doing. If I got too close to him, he'd duck into his hole ...
Pictures!
Tent Wall (Saba)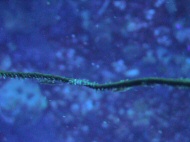 Blurry, I know, but one of the only pictures of a Whip Shrimp that you can actually tell has a shrimp in it.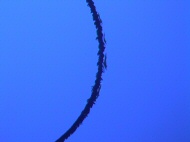 This is more of a sillouhette of a Whip Shrimp, but at least it is in focus.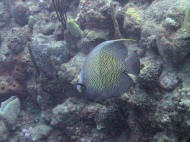 French Angelfish.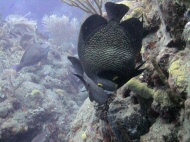 Another French Angelfish.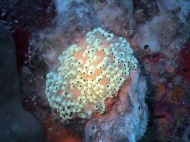 These I am almost certain are a colony of tunicates.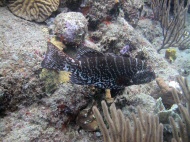 This is a Grouper.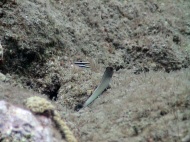 I spotted this Red Lipped Blenny doing something that I guess was eating; he would occasionally bounce up and down off of the coral around his hole. If anyone got to close though, he would be back in his hole, like any other blenny, only his head sticking out.
Tent Reef (Saba)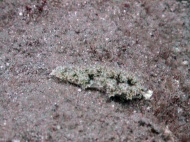 The color on this is not right, but he was in a low vis spot, on a cloudy time of day, in a spot that did not have direct sunlight above it.



Dive data for dives on this day:


| Dive | Site Name | Max Depth | Minutes | Water Temp |
| --- | --- | --- | --- | --- |
| 303 | Tedran Wall (Saba) | 106 feet | 45 min. | 79 F |
| 304 | Tent Wall (Saba) | 88 feet | 60 min. | 79 F |
| 305 | Tent Reef (Saba) | 52 feet | 48 min. | 79 F |