A short visit to Statia, which had some restrictions we didn't like, and then onwards to St. Kitts ...
Diving aboard the CEXII:
Directions from Tampa: Talk to Ultimate Dive Travel at http://www.ultimatedivetravel.com/
Conditions on the day of my visit: Sunny


Personal Notes: Again, I wasn't doing all that well, so I missed the first dive. But I managed to get a couple of dives in on Statia. Both were quite surgy, were relatively low vis, and we were told to follow around a park assigned dive guide. The waters around Statia are a protected park, and you're not supposed to dive there without either a dive guide or one of the divemasters from one of the on island operations. As the D2D gang has a tendency to ... well, wander, we really didn't take to the whole "being led around" thing.

St. Kitts was a welcome change. Paradise Reef was a really nice spot, and had some stuff I kinda hadn't seen before - at least, in such a way as I could get really good shots of.
Pictures!
While Paradise Reef was not a night dive for me, it was late in the day and did get dark enough for lights to be needed. I am very happy with the Coral Shrimp photos as they are the best ones I have so far.
Paradise Reef (St. Kitts)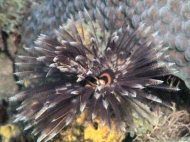 I have good shots of Magnificent Feather Dusters but I am always looking for better ones. This is just okay.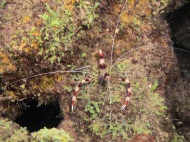 This is probably the best photo of a Banded Coral Shrimp I have. There were three or so sitting out on a rock posing for photographers. Only at night would you probably see this; during the day these guys are usually hanging out underneath something. Indeed, some of the photos I have of these guys are upside down.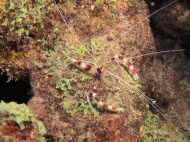 Here is another decent shot.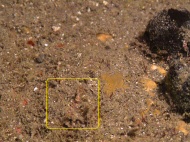 In the yellow box there is a shrimp. I swear he is there, and I do not know what kind of shrimp, but there is one there. He is just very skinny, translucent, and what color he does have blended in well to the background. He is also kind of small.



Dive data for dives on this day:


| Dive | Site Name | Max Depth | Minutes | Water Temp |
| --- | --- | --- | --- | --- |
| 289 | Barracuda Reef (Statia) | 74 feet | 46 min. | 75 F |
| 290 | The Ledges (Statia) | 69 feet | 51 min. | 79 F |
| 291 | Paradise Reef (St. Kitts) | 46 feet | 53 min. | 75 F |