December 26, 2004 - December 27, 2004 - December 28, 2004 - December 29, 2004 - December 30, 2004 - December 31, 2004 - January 2, 2005 - January 3, 2005 - January 5, 2005 - January 6, 2005 - January 7, 2005

January 4, 2005: Caribbean Explorer II
"Customs House Reef (Saba)" - "Ladder Labrynth (Saba)"


Early in the morning, we did the crossing to Statia - but we had no intention of diving there ...
Diving aboard the CEXII:
Directions from Tampa: Talk to Ultimate Dive Travel at http://www.ultimatedivetravel.com/
Conditions on the day of my visit: Cloudy.


Personal Notes: There are some notable things about Statia, independent of diving ...

First, the primary noticable feature as you approach the island (from Saba, anyway) are the huge oil tanks. It seems that Statia is a distribution point for the area. Also, there are fuel barges and a number of freighters either awaiting fueling or dropping off fuel.

Apparently Statia is also known for the quality of it's fuel. Before fueling a boat, they actually offer a sample for review by the recipient. This way the boat knows what they're getting. According to Evan, they've fueled up at other islands and gotten some less than quality diesel. So Statia is a must stop for gas.

We were to fuel up at 7am; Statia delayed us a bit (we didn't start getting gas until roughly 9am), so we didn't make it to Saba until the afternoon.

We still managed to get three dives in; I did two.
Pictures!
Customs House Reef (Saba)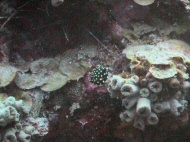 This is a Juvenile Smooth Trunkfish. Tiny little guys that are about the size of a pea usually. This one is noticably bigger.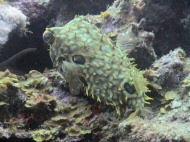 We had a hard time identifying this until I read the description of the Web Burr Fish; they have color variations that match this.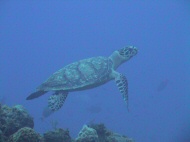 A turtle.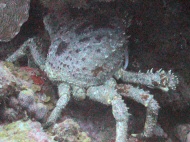 A crab.



Dive data for dives on this day:


| Dive | Site Name | Max Depth | Minutes | Water Temp |
| --- | --- | --- | --- | --- |
| 301 | Customs House Reef (Saba) | 104 feet | 46 min. | 79 F |
| 302 | Ladder Labrynth (Saba) | 54 feet | 56 min. | 79 F |