December 26, 2004 - December 27, 2004 - December 28, 2004 - December 29, 2004 - December 30, 2004 - December 31, 2004 - January 2, 2005 - January 3, 2005 - January 4, 2005 - January 5, 2005 - January 6, 2005

January 7, 2005: Caribbean Explorer II
"Ladder Labrynth (Saba)" - "Tent Wall (Saba)"


Last day of diving for the trip. We did a predawn dive ...
Diving aboard the CEXII:
Directions from Tampa: Talk to Ultimate Dive Travel at http://www.ultimatedivetravel.com/
Conditions on the day of my visit: Sunny.


Personal Notes: The predawn dive was at Ladder Labrynth, where I took some photos of a strange creature that, it turns out, is a travelling companion of one of my D2D buddies.

Tent Wall became out last site of the trip. It's a nice spot, and given enough air, you can actually see part of Tent Reef while you're there.

Someone claimed to have seen a hammerhead shark on that last dive - but with no picture and no one else seeing it, we have to take her at her word.
Pictures!
Ladder Labrynth (Saba)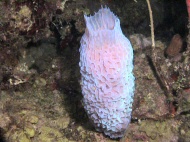 Azure Vase Sponges are usually not shaped so - perfectly.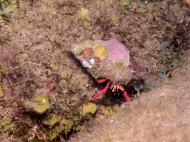 I am pretty sure this is a Star Eye Hermit Crab.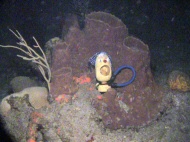 Here is Helga. There is a long story about Helga, which resulted in me offering to take pictures of her in random places. In this shot, she found a nice little cubby in some sponges.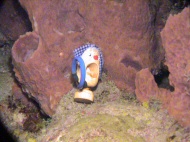 She really liked how these kinds of sponges formed a little throne of sorts.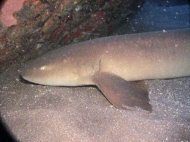 This Nurse Shark allowed me to get quite close - not that I was in any rush to do so. Seeing as it was getting a little dark, I needed to get close enough for the lights to pick up the shark. Even with that, I had to brighten it a bit.
Tent Wall (Saba)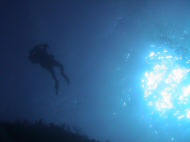 A diver and the sun.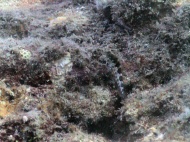 This is some kind of blenny.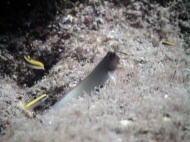 Another shot of the Red Lipped Blenny, though not quite as sharp as the previous one.



Dive data for dives on this day:


| Dive | Site Name | Max Depth | Minutes | Water Temp |
| --- | --- | --- | --- | --- |
| 309 | Ladder Labrynth (Saba) | 69 feet | 51 min. | 79 F |
| 310 | Tent Wall (Saba) | 107 feet | 60 min. | 77 F |