I needed to talk to Scott, preferably face to face, and figured the easiest way was to visit Weeki Wachee and dive.
Diving in the land of the Mermaids:
Directions from Tampa: Weeki Wachee is just south of the intersection of State Road 19 and State Road 50. Weeki Wachee is technically it's own city, but I've seen it referred to as part of Brooksville, as well as part of Spring Hill.
Conditions on the day of my visit: Sunny, a little warm.


Personal Notes: This was mainly a visit to discuss the scheduling and parameters of my tests for my SSI Stress and Rescue course; though while there I did squeeze in a few dives. I've been there so often though that they've started to put me to work (bringing in doughnuts this day didn't hurt either). By no means an "official" safety diver, Scott has asked me to keep an eye on everyone, help out with getting people in and out of the water, and pull people from the few places they shouldn't be going.

Due to the scheduling that had been set up, I did a morning dive, and then decided to forgo a "between Mermaid show" dive, since there was a scheduled show at 1:45pm (Scott doing some buoyancy demonstrations with Bill narrating) and it didn't leave enough time for me to dive and be happy with that dive (and as the first Mermaid show came to an end, I watched about 45 divers gearing up and decided I'd rather not be in the water with all of them, all trying to get into or out of the water at the same time). To my surprise, as I was helping Scott get divers into the water after the first Mermaid show, Bill asked me if I wanted to take his underwater camera down while Scott was doing his demonstrations and film. It was a favor to him that got me into the water earlier than I had expected so I was more than happy to help. I got out after the demonstration was over and noted that I still had 2300 psi in my tank ... more than enough for a third dive.

On that third dive Scott again asked me to keep an eye on everyone. We did have an incident while I was there with folks from a particular shop going where they weren't supposed to, but on my way down to pull them out I encountered Bill (a rare sight under water ... I didn't recognize him at first) who was rather unhappy that anyone was down there. He motioned for me to surface and then went down to grab the others. He asked me what I was doing down there and I explained that I was doing what Scott had asked me to do; he said "Oh okay" and then proceeded to emphasize to the visiting divers his displeasure at their clear violation of a stated rule.

Scott and I have also discussed improvements here and there that we could make to make Weeki Wachee a better, safer, more fun dive site. We also discussed the ongoing attempt to get the algae cleaning started ... soon, very soon ...
Pictures!
Nothing special here, more bream, more turtles. But it's always a good place to practice stalking stuff.
Weeki Wachee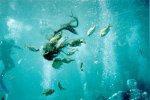 Bream feeding ... not really that impressive until you see the next picture ...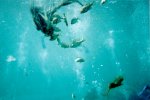 The bream in the center of the picture has his spines out. This seems to be a kind of initial reaction to a "Fight or Flight" situation.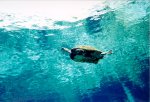 A good shot of a big turtle swimming by.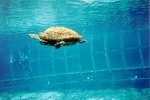 The turtle again, as well as a couple of divers and the auditorium in the background.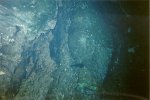 Probably about 45 feet down, this bream wouldn't let me get too close. I'm hanging on to the bottom of one of the swim throughs, shooting past it, at this bream playing in the flow.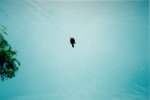 I know it looks like a turtle that's far away, but this little guy isn't even six feet away ... it's a baby turtle, rarely seen at the surface, getting a breath of air.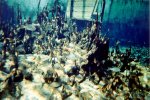 Some bream, with the dock in the background. That's where divers enter and exit the basin.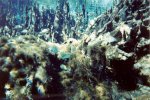 More bream.



Dive data for dives on this day:


| Dive | Site Name | Max Depth | Minutes | Water Temp |
| --- | --- | --- | --- | --- |
| 51 | Weeki Wachee | 47 feet | 55 min. | 74 F |
| 52 | Weeki Wachee | 18 feet | 24 min. | 74 F |
| 53 | Weeki Wachee | 69 feet | 48 min. | 74 F |