My parents were down from Pensacola, visiting me; one of the things I wanted to do during their visit was show off where I worked. Considering that I "kinda" work at Weeki Wachee, a visit was in order. While there, I did a dive, of course.
Diving in the land of the Mermaids:
Directions from Tampa: Weeki Wachee is just south of the intersection of State Road 19 and State Road 50. Weeki Wachee is technically it's own city, but I've seen it referred to as part of Brooksville, as well as part of Spring Hill.
Conditions on the day of my visit: Sunny initially, some scattered rain here and there; comfortable in the afternoon.


Personal Notes: Well, it was a dive, showing off to the parents, and then hanging out at the rest of the park for the day, which the parents really enjoyed. I did take pictures but not many.
Pictures!
While visiting with my parents I snapped a couple ...
Weeki Wachee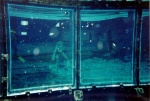 "Trading Shots II" with my Dad this time. I took a picture of Mom, but it didn't come out that well.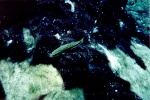 This bass was rather large, and luckily more interested in the morsel he had pegged for dinner than in me ... this allowed me to get in fairly close for a good shot.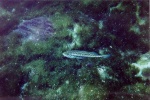 Here he is giving up on dinner and noticing me.



Dive data for dives on this day:


| Dive | Site Name | Max Depth | Minutes | Water Temp |
| --- | --- | --- | --- | --- |
| 67 | Weeki Wachee | 29 feet | 45 min. | 74 F |