1999 - A Weeki Weekend - February 5, 2000 - March 11, 2000 - March 18, 2000 - Bahamas 2000 - May 20, 2000 - A Stress and Rescue Weekend - June 10, 2000 - June 11, 2000 - July 4, 2000 - July 8, 2000 - July 16, 2000 - July 22, 2000 - August 6, 2000 - August 12, 2000 - August 20, 2000 - November 18, 2000 - December 17, 2000 - 2001 - 2002 - 2003 - 2004 - 2005 - 2006 - 2007 - 2008 - 2009

October 14, 2000: Orange City, Florida
"Blue Spring"


Well, originally the Rodale's group was scheduled to go off-shore West Palm Beach ... however, with 7-10 foot seas and 15 foot visibility, it didn't happen. My sister then tried calling someone on the Gulf Coast, but visibility over there was 6 inches. So we went to Blue Spring.
Diving in Florida's freshwater springs:
Directions from Tampa: Off of I-4, take the Orange City exit, then make a right onto Enterprise Road. Right again onto SR-17 (Volusia Road or something like that) and then look for West French Avenue and take a left. The park will be on your left.
Conditions on the day of my visit: Very cool; sunny I guess but Blue Spring is kind of in a forest so it seemed overcast.


Personal Notes: This was my second visit to Blue Spring ... the park at least. They can be Scuba Nazis so you will have to have your C-Card (I forgot mine the first time) which they keep while you are there and a buddy (or they don't let you into the park). If you are not Cave Certified or do not sign up to cave dive, it's supposedly a $100 fine if you take a light down with you and are caught with it.

Entry is a major pain. You gear up in the parking lot, walk a quite long distance (100 yards is probably not an exaggeration) and then get into the water.

It's a great dive though; I'd do it again! The spring itself is quite small and you'll have the best time if you go when very few other divers are there. At 60 feet there's a "PREVENT YOUR DEATH" sign (Cavers only beyond this point). The formation of the spring is like levels of shelves ... at 55 feet the shelf above that one is high enough to where you can stand on the shelf and not hit your head. My sister and I took our fins off and moon walked. It was actually quite fun. Kind of dark though; the visibility of the water was down a bit (dunno why) and the light filtering down had to go through trees first to begin with.

After the second dive, as we were floating to a secondary exit point, I got bumped in the ass by a manatee (that's what I get for swimming backwards). Good thing my tank mounting was a little high.
Pictures!
Just a couple of shots ... not a whole lot was going to actually come out well considering the conditions (near cavern type conditions).
Blue Spring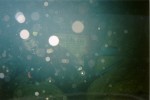 This is my sister at the 60 foot mark, in front of the sign that says "PREVENT YOUR DEATH."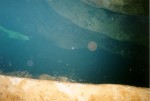 Trying to get a shot of the entrance to the spring. You can see here the shelf like formations that are every couple of feet. At 55 feet, the separation between shelves is about six feet, and the shelves there are quite large, so you can actually take your fins off and walk on them.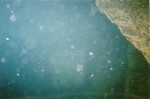 Barely readable: "PREVENT YOUR DEATH."



Dive data for dives on this day:


| Dive | Site Name | Max Depth | Minutes | Water Temp |
| --- | --- | --- | --- | --- |
| 82 | Blue Spring | 55 feet | 34 min. | 72 F |
| 83 | Blue Spring | 78 feet | 44 min. | 72 F |