My brother-in-law had a business meeting in St. Petersburg the previous week, and while here, wanted to do some spear fishing. He didn't catch anything ... which is not to say that our party came up empty handed ...
Diving off of Clearwater Beach:
Directions from Tampa: Take I-275 to the Tampa Airport/Clearwater exit (Highway 60). Continue on Highway 60 (which becomes Gulf to Bay Blvd) past Downtown Clearwater, then across the Memorial Causeway. Follow Memorial Causeway West. Shortly after passing the Clearwater Marine Science Center (traffic light), you'll cross a bridge onto the island. The Palm Tree lined road will take you to a large roundabout with a fountain in the middle. You'll enter the roundabout in a counter-clockwise fashion (turning right into the roundabout). You'll go almost all the way around until you see a sign pointing out the marina parking lot. Turn Right into the Marina parking lot. Once in the Marina parking lot, make a left and follow the parking lot past the large building. Dive Clearwater is located in Slip 57 at the East end of the Marina.
Conditions on the day of my visit: Sunny and hot. I think I got just slightly toasted.


Personal Notes: The boat I usually go into the Gulf with, the ConchQuest from ScubaQuest, rarely schedules spear fishing dives. Scott (of Neptune Divers fame), had suggested JB Fishing and Diving Charters ... however, their boat was full. Mark (who runs the Madeira Beach ScubaQuest) suggested Dive Clearwater. The "Boat Critique" is below the narrative of the dive.

Diving with us were some folks from (I think) the Rodale's message board, John and his wife, Anne. John is an avid photographer; his camera is a Sea&Sea Mx10 (I have the "point and shoot" Mx5).

Our first dive was the remains of an old bridge, purposefully sunk, so it was considered a wreck. I personally viewed it as an artificial reef, but hey, it didn't really matter ... it was a bunch of concrete formations dropped into the water. Though visibility was only about 25 feet, the water was a quite nice 85 degrees ... while floating at the anchor line off the bow, waiting for my buddies to enter the water and descend with me, I looked up at the captain as he watched the divers and said, "You know, I could just sit here all day." The water was wonderfully warm! It's been a while since I wore anything other than a full wetsuit to dive in.

Tom (my brother-in-law) took the spear gun on the first dive. I took some pictures (most of a roll of film) of fish here and there. I hope they come out; with the low vis and the high level of particulates, it was a toss up whether to use the flash, or to cover it up and hope that enough sunlight filtered down to depth. I hung back from Tom and my sister, not wanting to scare the fish they might be hunting, and snapped photos here and there.

On this site there were many snapper, but any that were big enough to consider shooting were far to skittish for Tom to even draw a bead on.

The second dive was a natural reef, a well defined 'relief' (it doesn't rate the term "ledge"). My sister took the spear gun on this second dive. Ten feet from the anchor she managed to spear a 20" red grouper ... the perfectly legal size. I took what few pictures I had left in my camera of her holding the spear with the fish on it. I buddied up with John for this dive, and we moved along the reef; John's really into the photography thing, and has the rig to take really good shots.

Boat Critique
Well, having spent most of my time on Mark's boat, and having recently been to the Bahamas, this promised to be, at the very least, interesting. It was also educational, I guess ...

Happy with the dive overall, I was unhappy with how the dive operation was run. Mind you, you are catered to (well, at least cared for) on Mark's boat. You have fun in the Bahamas, and even though they don't swap your gear for you (if memory serves), you at least realize why when the boat captain is also your dive leader. On the Dive Clearwater boat, not only do they not switch your gear for you (I understand though that some divers actually prefer that), but they did not even send a dive master down to check or set the anchor. On the first dive, the line passed between two crossed pilings, and the chain and anchor were laying flat, unsecured, on the sand (the only thing holding the line was where it was tied to the chain). Even worse, on the second trip, as we were gearing up the captain commented, "I think I felt the anchor let go." Go figure, nobody went down to check it. "If you don't see the reef right away, swim in the direction of the drag marks." Ooo ... that inspires confidence.

Add to that, John and I both had our computers nearing the caution zone for our no-deco limit. We were given few guidelines for our dive profile ... no time limit (beyond our air), and the SIT was relatively short (44 minutes according to my dive computer ... another fifteen might have been a good idea).

I'd only dive this boat again if I couldn't find another one ... chances are, I will always be able to find another one. They did at least clean and cut up my sister's fish for her, and the crew was personable. The boat also has a head, and a freshwater shower ... so they at least have that going for them.
Pictures!
I was surprised at how well most of the pictures came out, considering that when I remembered where we were, I remembered to cover the flash up. Still, I was thinking that it would all blur out considering that visibility was barely 30 feet.
Clearwater Pass Wreck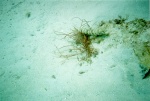 The lizardfish were all over the place too ... well camouflaged, but if you knew what to look for, they became really easy to spot.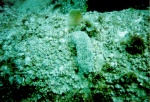 A sea cucumber. See the caption for the Banded Sea Star for an appropriate commentary.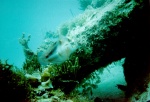 This guy seemed genuinely curious as to what I had in my hands. Bigger than he was, and probably not edible, he still kinda wanted to know what it was.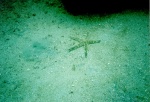 A Banded Sea Star. These were all over the place ... if they moved a little more, I might have taken others and scanned them in. Thing is, since they don't, if you've seen one, the only thing more exciting is finding a *bigger* one.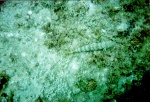 A decent shot of the Bluestriped Lizardfish. I never could make out the 'blue' in his stripes, but then I didn't really see any blue in the picture that was in the ID book, either. My sister was funny about these guys ... she hadn't spotted them (since she was kinda on look-out duty for Tom), when she did she was emphatic about spotting one. I motioned to her that they were all over the site and I had seen many of them.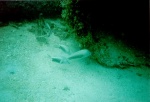 Snapper ... my guess is that they are Gray Snapper. I could be wrong though, it's hard to make out the markings in this photo.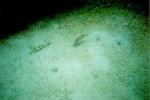 A Bluestriped Lizardfish and a Hogfish. You can almost make out the Hogfish's retracted spines, but you can clearly make out the black spot on his back that the fish ID book says is always there.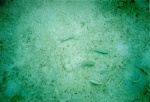 A school of fish. Don't ask me what they are ... I *still* don't know.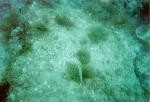 A fish, dunno what kind (email me if you have a guess). It has the general shape of a parrot fish or a wrasse but I couldn't find anything that had those markings in my fish ID book.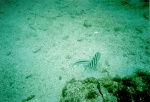 Another one of those fish I couldn't identify, swimming next to (what I think is) a Sheephead (the striped one).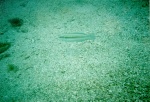 A fairly good shot. Little good it did me though when I broke out with the ID book because I looked and looked and couldn't find it.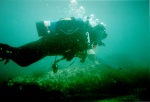 "The Hunter." Here's Tom with his spear gun, moving away from the anchor line and looking for something to shoot. It would have been a great picture if he had actually shot something (and if I got a picture of him with his catch).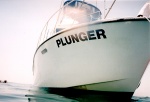 The "Plunger," Dive Clearwater's boat. As you can see it's a fairly calm day (and stayed that way until we were getting out of the water after the second dive, when the wind and waves picked up a little). I'm (of course) in the water, enjoying it's warmth, waiting for Tom and Suki to show up so we can descend.
Mike's Pike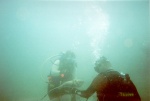 A shot of Suki holding the spear and fish, with Tom hooking the stringer on the fish so that they can resume hunting. Dive Clearwater was kind enough to clean and fillet the fish for her when we got back to the dock.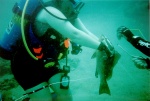 My sister, Suzuki (or Suki) with her catch of the day. It's a Red Grouper, 20 inches long (the current minimum size for Gulf fishing). It was her first time with the gun, first shot, not 20 feet from the anchor line.



Dive data for dives on this day:


| Dive | Site Name | Max Depth | Minutes | Water Temp |
| --- | --- | --- | --- | --- |
| 60 | Clearwater Pass Wreck | 46 feet | 45 min. | 79 F |
| 61 | Mike's Pike | 47 feet | 44 min. | 79 F |