Well, I had one more specialty to finish up for my Master Diver certification from SSI, and in the morning the schedule showed it could be potentially busy, so Scott and I decided that it would be a good day for me to come up and do the lecture and written exam for my Deep Diving Specialty, as well as maybe do a little work.
Diving in the land of the Mermaids:
Directions from Tampa: Weeki Wachee is just south of the intersection of State Road 19 and State Road 50. Weeki Wachee is technically it's own city, but I've seen it referred to as part of Brooksville, as well as part of Spring Hill.
Conditions on the day of my visit: Sunny initially, some scattered rain here and there; comfortable in the afternoon.


Personal Notes: SSI considers "Deep" anything below 60 feet. I've been there (at least a couple of times in Weeki Wachee). Recommended recreational limit is 100 feet; the tables don't go beyond 130 (which has a maximum bottom time of 5 minutes, two of which you use just getting there, so it's not really worth the visit). Going beyond that most likely moves you into a decompression dive, which is considered "Technical" diving. So, having really done the dives, it wasn't 100% necessary. However, Scott promised that in the future we'd do a really deep dive, along with all the preplanning of the dive, including gas management.

It was especially welcome that Scott did not push me through doing the entire sequence this particular day. I was tired from the day before, didn't really sleep all that well the night before, and after my one (yes, I did only one this day ... a short one for me at that, as I got cold) dive, was quite worn out. Besides, in the lecture, Q&A, and discussion, I think I proved that I understood all the theory and it wouldn't be too hard for me to put it into practice. Heck, there were a couple of times I would finish the thought before Scott got to the end of a concept.

Scott had had a rough week too and both of us were wandering around thinking of finding good places to curl up and take naps.

During my one dive I found out how tough the bottled water bottles were; I took one down to about 75 feet, filled it with air at that depth, and let it go. It (much to my chagrin) did not blow up. It did, however, become extremely hard and hissed something fierce when I opened it.

Scott and I did go over the plans to dredge the spring; the pressure lines are in; now it's just a matter of figuring out what to do with the algae we suck up, making sure we have the hose to get it there, and schedule the time. Scott and I did discuss the potential of me cutting some of the algae loose and pushing it down river, but there were swimmers in the swimming lane that separates Buccaneer Bay from the main basin, and chances were the swimmers would not have liked swimming through a thick cloud of algae.
Pictures!
My guess is that we had some overcast that day; I was trying out 200 speed film (I started with 400). 200 speed is more susceptible to issues with low light and movement. This is compounded by the fact that I almost always cover up my flash due to the fact that it's not a strobe I can reposition, just a flash on a point-and-shoot camera (and is quite susceptible to particulate backscatter).
Weeki Wachee

Me - "Hey! Look what I found? What is it?"
Scott - "It's a Mermaid Scale."
Me - "Huh? Whut?"
Scott - "Part of a costume!"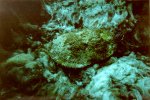 A turtle in the algae.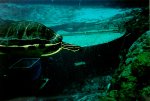 I'm fairly sure this is Lefty, but I can't tell, as not enough of his right foreleg is out for me to tell for sure. Lefty is missing his right claw; and though he does have some leg there, it's a noticeable difference.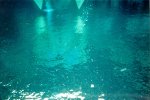 I scanned this in upside down; it's an attempt and an artsy shot of the reflection of the castle.



Dive data for dives on this day:


| Dive | Site Name | Max Depth | Minutes | Water Temp |
| --- | --- | --- | --- | --- |
| 62 | Weeki Wachee | 74 feet | 37 min. | 74 F |